More answers
Juice for Pomegranate Ice Cream
Asked by kiska. Answered on 15th July 2015
Full question
Dear Team Nigella, how do you juice your pomegranates? Where I'm from we had special pomegranate juicers which are very different from normal juicers. Thanks.
Our answer
Nigella's No-Churn Pomegranate Ice Cream (from Nigella Express and on the Nigella website) uses the juice from 2 pomegranates. One of the easiest ways to juice a pomgranate is to squeeze it by hand, as if you were squeezing an orange. Cut the pomegranate in half horizontally and use a manual juicer or a reamer to squeeze the juice out. Try not to include the membrane or sieve/strain the juice before using to remove any small pieces of memberane.
If using a blender or an electric juicer then strain the juice through a sieve lined with cheesecloth or muslin to remove any small pieces of membrane as these can be bitter. Alternatively you can remove the seeds from a pomegranate and drop them in a bowl of cold water. The seeds should sink and the lighter membrane should float so you can strain off the membrane and be left with just the seeds. You can then blend the seeds to make a juice, but it is best to still strain the juice after blending to make sure that it is smooth. If you can buy pure pomegranate juice in a bottle then you can use 150ml (2/3 cup) instead of the 2 pomegranates. But do check the label on the bottle first as many products sold as pomegranate juice are actually a blend of juice, water and sugar.
Recipes you might like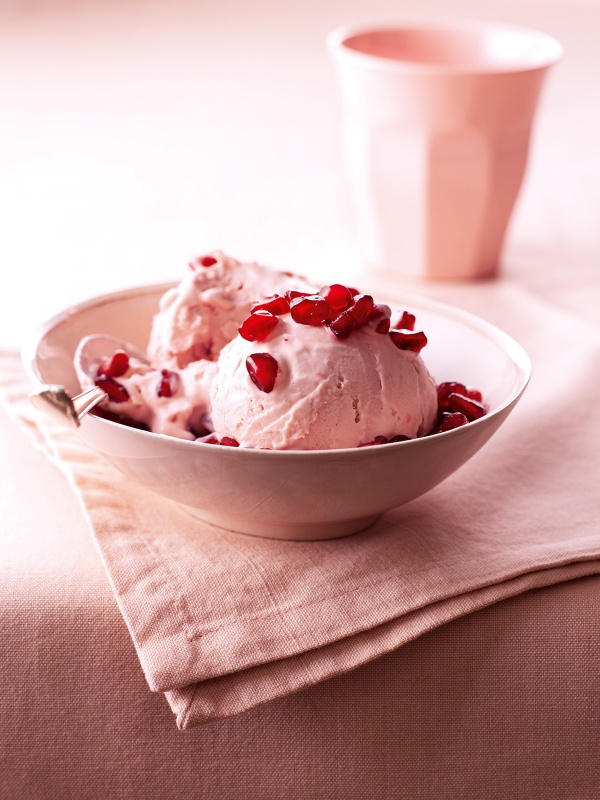 No-Churn Pomegranate Ice Cream