Print me
Introduction
This is my mum's version of the Sichuanese dish Mapo Doufu. It's perfectly inauthentic, and a fusion of different ingredients, ideas and styles coming together. I leave out the chilli, pepper and Gochujang paste when I cook this for Riley, then add it in after I've scooped out a portion for him to enjoy.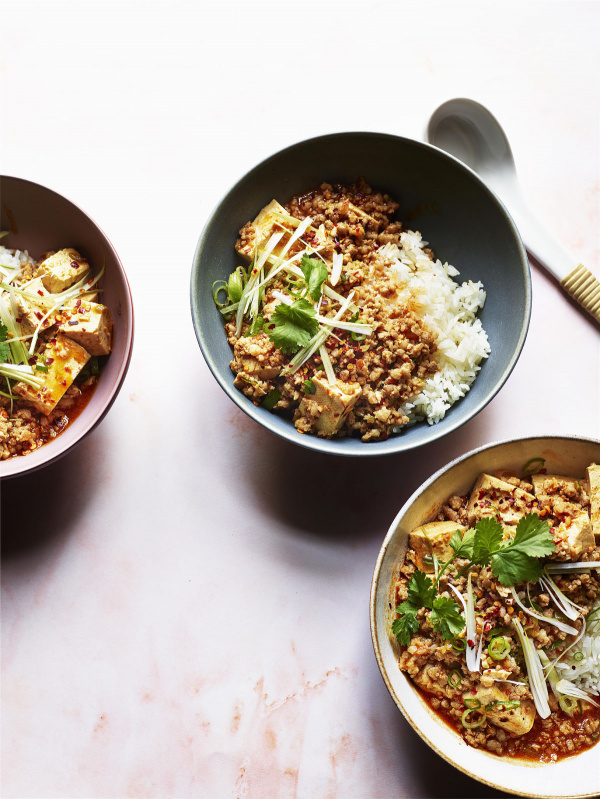 3 tablespoons cooking oil
1 teaspoon chopped garlic
1 tablespoon chopped spring onion (white part)
1 teaspoon peeled and chopped root ginger
2 teaspoons crushed fermented black beans or black bean sauce
1 tablespoon gochujang paste (hot chilli paste) or hot bean paste
1 teaspoon dried chilli flakes
2 teaspoons ground Sichuan pepper
450 grams minced pork
1 tablespoon chinese rice wine (shaoxing or sake)
240 millilitres water
½ teaspoon caster sugar
½ teaspoon salt
1 tablespoon soy sauce
500 grams soft tofu (or firm tofu if you want more texture), cut into 2.5 chunks
2 tablespoons julienned spring onions (green part)
For the slurry
1½ teaspoons cornflour
1 tablespoon water
Method
Ma-Po Tofu - Tofu with Minced Pork is a guest recipe by Elizabeth Haigh so we are not able to answer questions regarding this recipe
Heat the oil in a wok, then stir-fry the garlic, spring onion, ginger and crushed fermented black beans for about 3 minutes or until fragrant. Add the hot bean paste and cook, stirring, for 1 minute or until aromatic. Mix in the chilli flakes and Sichuan pepper.
Add the minced pork. Continue to stir to cook the pork, breaking it up with a spoon. When the meat changes colour, add the rice wine, water, caster sugar, salt and soy sauce to season, followed by the tofu. Simmer for 3 minutes over a low heat.
Mix together the cornflour and water until smooth, then slowly pour into the wok, stirring but being careful not to break up the tofu too much. Once mixed well and slightly thickened, garnish with the julienned spring onion and serve.
Other recipes you might like