Print me
Introduction
I made this vanilla cheesecake the other day and just had to share it with you. I usually prefer no bake cheesecake but this may have converted me. It was soooooooooooooo delicious and was very wobbly in the middle when I switched the oven off and I was a bit worried but after it had been left to cool for a few hours in the residual heat of the oven and then chilled in the fridge it was fab and no cracks either.
227 graham crackers
57 butter
⅔ cheese (curd or mixture of cream and cottage)
227 superfine sugar
3 eggs
1 teaspoon vanilla extract
Method
Hevz Baked Vanilla Cheesecake is a community recipe submitted by Hevz and has not been tested by Nigella.com so we are not able to answer questions regarding this recipe.
Pre-heat the oven to 150oC, gas mark 2, and make sure you have a shelf in the middle of the oven with enough room above it for your tin to fit in.
Put the biscuits in a plastic bag and bash them with a rolling pin until they're finely crushed.
Melt the butter (in the microwave or a saucepan) and add the biscuit crumbs, mixing well so that all are nicely coated. Press the mixture into the base of a 9" loose-bottomed tin. Flatten it down and make sure the base is evenly covered, taking the mixture up the sides just a little.
Whisk the cheese, eggs and sugar together until you have a smooth mixture. If you've used cottage cheese, there are bound to be some lumps in it, but don't worry as these will mostly smooth out during cooking. Add the vanilla essence, if using, and pour the mixture onto the biscuit base.
Cook for 30 minutes by which time there should just be a hint of a wobble about the centre (mine was very wobbly at this stage but set perfectly). Turn the oven off, leaving the cheesecake inside to go completely cold. If you leave the oven door ajar during this time, your cake will have a creamier, less dry centre. It also helps prevent cracks forming. Then refrigerate for at least two hours before removing the cheesecake from the tin.
Additional Information
As a variation you could use ginger biccies for the base and then chop up a bit of stem ginger in syrup and mix it into a vanilla cheesecake topping. Use some of the syrup from the jar of stem ginger to drizzle over the top mmmmmmm
Other recipes you might like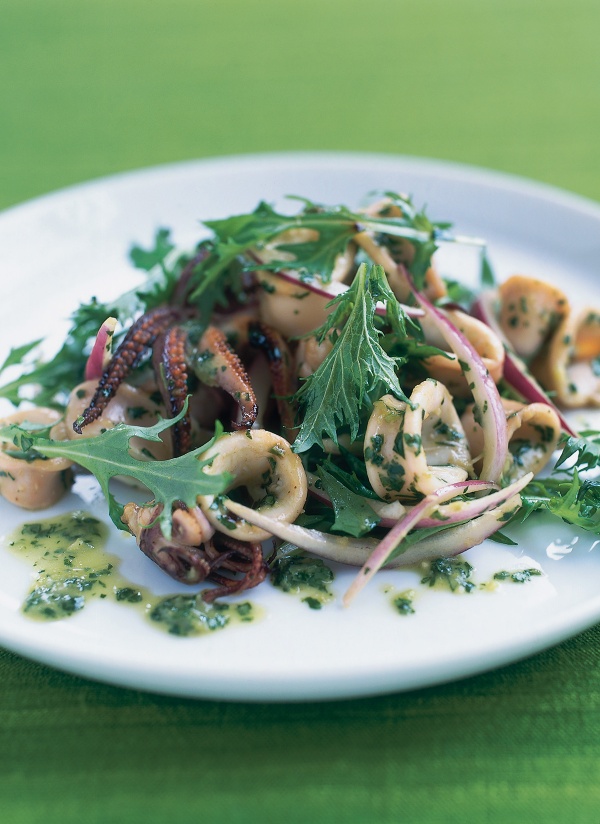 Squid Salad With Lime, Coriander, Mint and Mizuna