More recipes
Recipe search
Devilled Eggs (Stuffed Eggs)
A community recipe by

kathryn.delaney

Not tested or verified by Nigella.com
Print me
Introduction
I make these all the time, and I have like 3 egg plates for serving! People love them! When I was little I used to think they were so 'cool' because the egg was its own container, lol. People have a lot of preferences with these, and ingredients can vary from the basic recipe above to having lobster or crab mixed in (which I have tried and found pointless, as the other ingredients overpower the seafood). Here's how I do it. The recipe looks long, but it is one of the simplest things you'll ever make (I just get really detailed because I've made them so many times that this is the method that I've found works best for me). A few tips: I've found that brown eggs are harder to de-shell than white eggs, why I don't know. Also, I think that older eggs (but still before the sell-by date) work better because the membrane is thinner and they are easier to peel. I peel them by gently cracking the shell and then rolling it between my palms to make tiny cracks all over. Then, if you're lucky, the shell can come off in 1 or 2 pieces. I've doubled and trippled the recipe for big crowds with no problems.
Ingredients
Serves: Makes 12 deviled egg halves, s
6 large eggs
63 mayonnaise
1 tablespoon balsamic vinegar
1 teaspoon english mustard powder
salt (to taste)
pepper
paprika
chives (to garnish)
Method
Devilled Eggs (Stuffed Eggs) is a community recipe submitted by kathryn.delaney and has not been tested by Nigella.com so we are not able to answer questions regarding this recipe.
Put the eggs in a single layer of a pot and cover with cold water to an inch over the eggs. Bring to rolling boil, turn down to a low simmer and cook for 15 minutes. Turn off heat and drain, cool by changing with cold water several times if your in a hurry. Once cool to touch, de-shell the eggs. If it seems like you are having a difficult time, your eggs probably have thick membranes. try to get a hold of that and tear from there.
Slice in half lengthwise with a non-serrated knife (so you don't get the marks) starting from the rounder end and go toward the tip. Pop out the yolks into a medium bowl and put whites aside.
Add most of the mayonnaise, all the vinegar and mustard to bowl. I use a handheld mixer to combine well, then taste. Sometimes I add more vinegar and the salt. If the mixture is too thick, add a little more mayonnaise. Then I push the mixture through a sieve or small-holed colander to get out any remaining yolk-lumps (although some people like lumps).
You can just spoon into the whites at this point, but I always put filling into a pastry bag fitted with a big star tip. Then pipe into the center of the whites so they rise well above the flats of the whites.
Can be made up to a day ahead of time and will be good left over (if kept cool). If you make ahead, wait to add the garnish until you serve, because the paprika will sort of melt out and look unattractive.
Beware, the boiled eggs will make your house smell wretched for a while, but they're worth it! I always make a couple extra in case I have a peeling disaster and break a couple of whites.
Other recipes you might like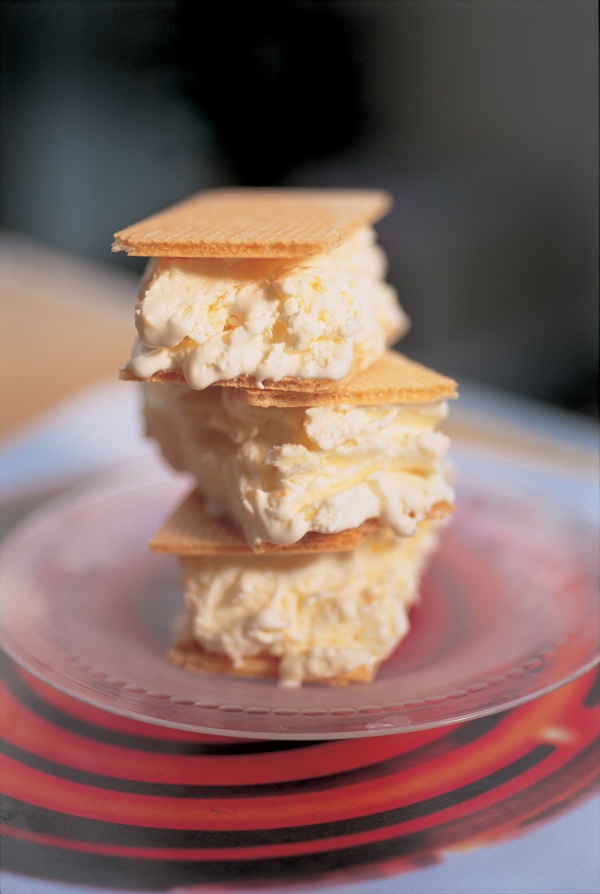 No-Churn Bitter Orange Ice Cream