Print me
Introduction
I could eat this every single day it's so delicious! Heady with spices, Moroccan-inspired dish packed for of goodness but really feels like a proper meal as the wheat is almost "meaty" itself - so no feeling denied, guilt-free indulgence!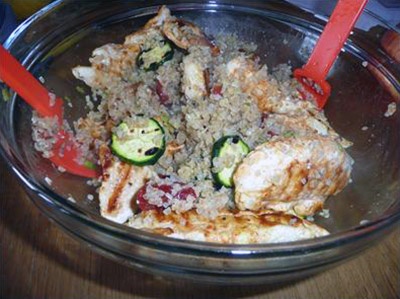 1 cup bulgur wheat
1¼ cups boiling water
2 tablespoons chicken broth (or vegetable stock)
1 large red bell pepper (flame roasted and diced)
1 medium zucchini (cut into discs)
1 sprinkling of red pepper flakes
cracked black pepper
½ teaspoon ground cinnamon
½ teaspoon ground cumin
½ teaspoon ground coriander
2 limes (zest of and juice of)
1 tablespoon greek yoghurt (cold - to serve)
Method
Bulgar Wheat Salad is a community recipe submitted by OCDcook273 and has not been tested by Nigella.com so we are not able to answer questions regarding this recipe.
Place the wheat, all the spices, zest, and the water plus stock in a big bowl - mix thoroughly then cover with cling and set aside.
Dry griddle the zucchini on a hot griddle pan (2-3mins is all that is needed).
When the wheat has puffed up and absorbed all the liquid (about 5 mins) toss in the red bell pepper, zucchini pieces and the lime juice.
Again mix well (fork is easiest) and try to stop yourself shovelling it all in before you serve it up!
Additional Information
I serve the Chilli Lime Chicken with this but salmon fillets griddled with harissa spread on top is delish too.
Other recipes you might like