Full question
I'd love to make the Watermelon and Feta salad but how do you remove the pips from the watermelon? There are so many of them! Thanks!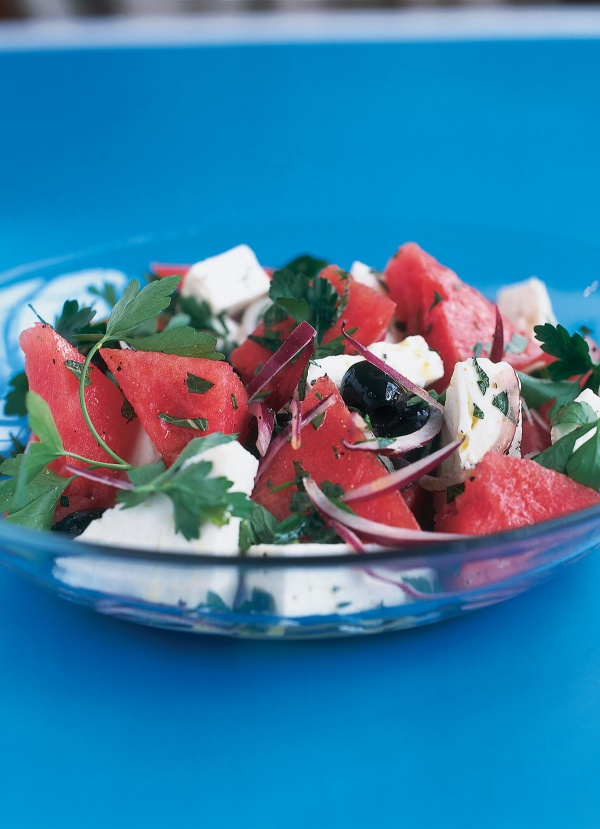 Watermelon, Feta and Black Olive Salad
Our answer
Nigella's Watermelon, Feta And Black Olive Salad (from NIGELLA SUMMER) is a refreshing combination of sweet, salty, sour and crunchy ingredients. It makes a good alternative to a regular Greek salad. The watermelon is cut into cubes for the salad. For the most stress-free option you may prefer to buy ready-prepared cubes of watermelon from the supermarket.
Many supermarkets now sell smaller watermelons that are marked as "seedless". These still have seeds, but as they are less mature than larger watermelons the seeds are very small and soft and most people can just eat the seeds. For larger watermelons you usually see the seeds running in a distinct line, so it is easiest to take a wedge and cut the seed-free flesh above the line of seeds away and cut this into pieces, then cut away the section with seeds in and set it aside and finally cut the remaining seed-free flesh into chunks. You can pick out the seeds from the set aside section of watermelon or discard it if you prefer.