Full question
I made the Spruced Up Vanilla Cake today in the "fir tree" tin. Fantastic cake and I added half a teaspoon of salt for flavour but it stuck. I actually bought the tin two Christmasses ago and had no problem in the first year with turning out my cakes, though using a different recipe. Last year, same recipe, but the cakes stuck, like the Spruced Up cake. Have tried greasing with butter and flour and liberally brushing with oil. No luck. Any suggestions?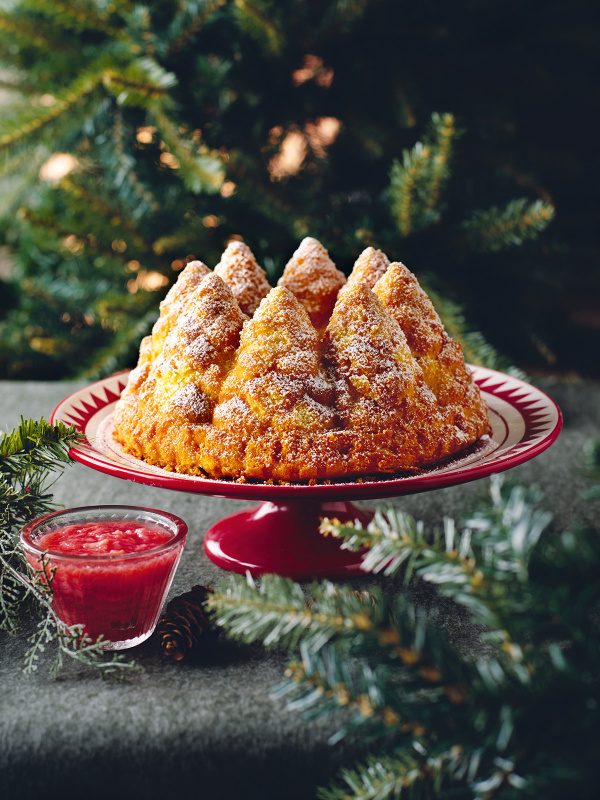 Our answer
Nigella's Spruced-Up Vanilla Cake (from NIGELLA CHRISTMAS) is a damp bundt cake that can be made in any bundt tin but is particularly seasonal if made in the Holiday Fir bundt pan. It sounds as if the issue is with the tin rather than with the cake recipe itself, as problems with another cake are mentioned and we have had success in removing this cake from bundt tins of different shapes.
The non-stick lining of bundt tins can be damaged by scratching so they need to be washed carefully by hand. Also some sprays can leave a build up of residue on the inside of the pan which can cause cakes to stick. If you have been using a spray then you could try filling the pan with warm, very soapy water and letting it soak for several hours before emptying, wiping with a soft cloth and then rinsing thoroughly and drying. Some people think that butter can contribute to sticking as the milk proteins act as a glue as the cake cooks, so grease the pan with a flavourless vegetable oil (or melted vegetable shortening) and then dust with flour. You can try making a paste for greasing the pan by mixing 1 teaspoon of vegetable oil with 1 teaspoon of plain (all-purpose) flour and then use a pastry brush to brush this on to the sides of the pan, paying special attention to the shaped crevices of the pan as this is where the cake is most likely to stick.