Full question
Hi, Nigella says she uses a 2.5 litre (10 cup) Nordic ware pine forest bundt pan for the spruced up vanilla cake. I bought the Nordic ware pine forest bundt pan but it only has a 9 cup capacity. I will obviously have too much cake mixture for the 9 cup pan, where does Nigella fill the 10 cup cake pan up to? I don't want to overfill the pan - thanks for your help!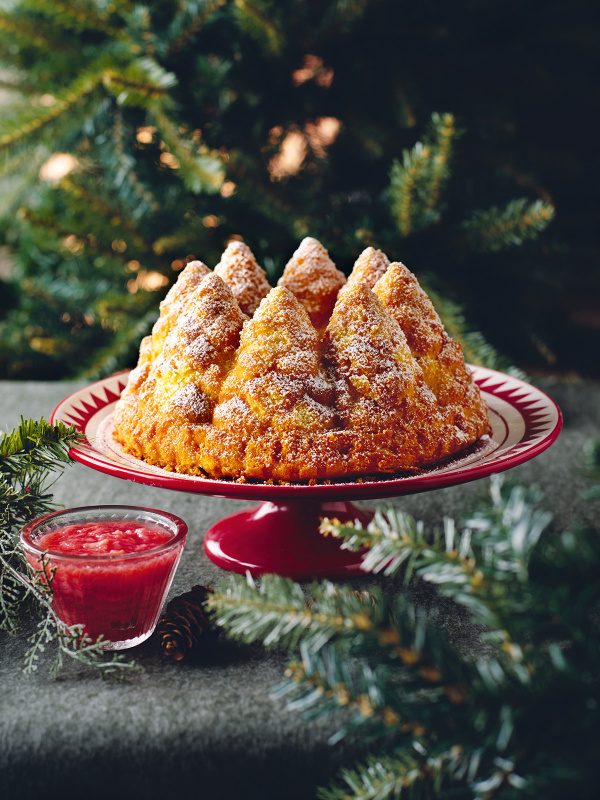 Our answer
Nigella's Spruced Up Vanilla Cake (from NIGELLA CHRISTMAS) can be made in the specially-shaped Nordic Ware fir-tree pan or in a regular bundt pan. The Nordic Ware shaped pan does have a capacity of 9 cups and you should not find that you have too much cake batter.
For other bundt tins the capacity can vary but one of the most common size of tins is 10 cups, which we also tested the cake in as we felt that it would be helpful to be able to bake the cake in a fairly standard bundt tin. An 8-cup bundt tin would be a bit too small and you would have a little batter left over plus a slightly shorter baking time. If there is left over batter then we suggest that you bake the leftovers as cupcakes. The cupcakes should take 15-20 minutes to bake but if you bake them at the same time as the cake then be very careful when opening the oven door to remove them, as the larger cake will not be properly set after that time and a gust of cold air could cause it to sink slightly - though the beauty of a bundt cake is that it won't be so obvious once the cake has been turned out of the tin.