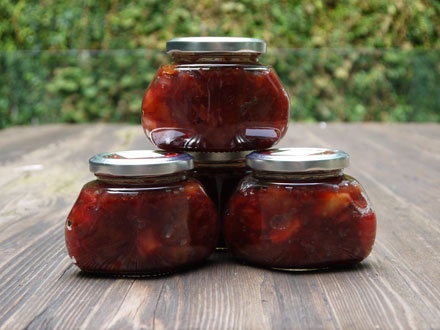 I am thoroughly and unapologetically urban, but I am equally ready to admit that there are few things as inspiring as rural fruitfulness. Of course, you can grow things in town (and I have done) but it's that immoderate plenty that you get from the expanses of the countryside that is so exciting to those of us who are limited in our outside space. So, when I had supper this week with a very old friend and she gave me a bagful of potatoes, picked at dawn from her garden in Gloucestershire, along with a variety of apples and some small, red-cushioned plums, I itched to cook them.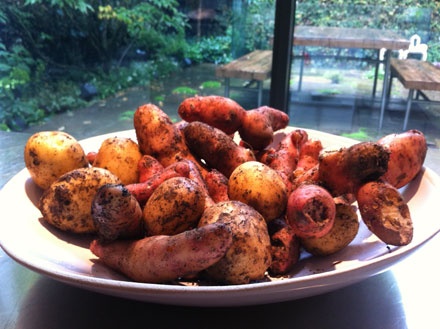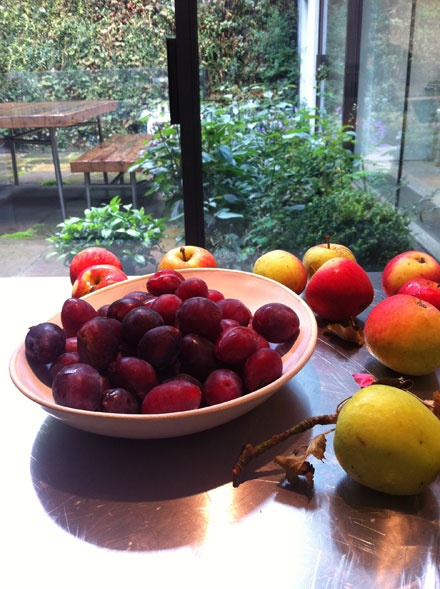 Potatoes that fresh need no more than to be steamed and the apples and plums were ready to be eaten just as they were, but after admiring them and eating some, I wanted to preserve the rest, so I could give a jar of something back to the friend who'd given me the fruit, apart from anything else. I toyed with the idea of a jam (who doesn't love plum jam?) and considered a liqueur but, in the end, I just knew I could feel a chutney coming on.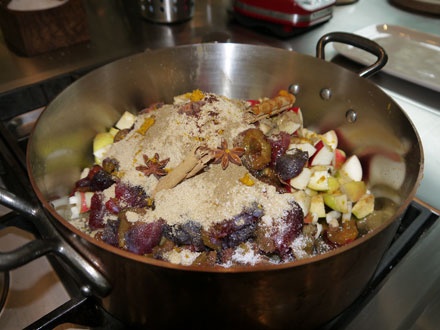 The thing about making chutney is that it's just so easy. You just prepare the fruit (in this case, 500g each of apples and plums, the apples cored and roughly chopped, the little plums halved and their stones removed) and bung it in a capacious pan with chopped onion (I used 2), soft brown sugar (I used 200g here, and added 125ml maple syrup for autumnal richness), spices (here: a teaspoonful of ground cumin, a quarter teaspoon of ground cloves, 4 star anise and a cinnamon stick, torn in half) and salt (I like 2 teasps of sea salt flakes, though if you were using fine flowing salt, just a teasp) and vinegar, which in this case meant 500ml cider vinegar. I added, though I don't usually when making chutney, the zest and juice of an orange; it just felt right. The deal now is that you just bubble everything together until what you have in your pan is not spicy vinegar with bits of fruit bobbing about, but a chunky, thickened mixture. Had I been using cooking apples, I reckon no more than 45 minutes should do it, but it took me about an hour. It's best to jar the chutney while it's still hot (but not dangerously so) and I just put the preserving jars (for this amount, 4 cute little 250ml jars were perfect) into the dishwasher for a cycle and consider them sterilized, but if you want to sterilize them properly, then do look online for more meticulous methods.
The thing about making chutney is that it's just so easy.
So now I have my rubied jars of chutney to eat and give away, which is a lovely way to start the weekend. The only blight on this cosy landscape is that I know I must let them mellow for a while before breaking into one of the jars and spooning a dollop of this intensely plummy savoury preserve onto a plate to be eaten with a crumbly wedge of palate-burningly mature cheddar. Still - always good to have something to look forward to...