I love a religious festival, any religious festival, so long as there's food involved. This is not just greed, though obviously it plays a part; I am fascinated, too, by the symbolism that runs through the worldwide feasting menu. So just as the Italians cook lentils for the new year to bring in - so it is hoped - a year of prosperity, since the lentils are thought to look a bit like coins, so the Jewish New Year (which takes place on September 29th) focusses on sweetness, in the hopes that the coming year will be concomitantly 'sweet'. This sweetness is most traditionally represented by a honey cake, but I thought I'd take the honey idea and do something a little different. Well, any excuse!
What I came up with is an easy walnut and honey pie, which I am actually going to serve tonight for some friends who are coming round, as it seems to me to be the perfect finale for a comforting autumnal supper.
I say it's easy as the pastry base is just a mixture of flour (225g), light and mild olive oil (125ml) and full fat milk (60ml) which, once everything's stirred together to form an almost-cohesive pale dough (as you can see it's still a little rubbly) that you just tip into a 25cm flan tin and press in using your fingers. I used a deep flan dish and the pastry came just about a centimetre to a centimetre and a half below the top.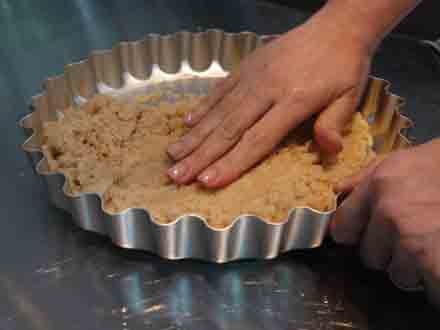 So, to proceed: stick the pastry-lined flan tin in the deep freeze and put a baking sheet into the oven and preheat it to 180C as you get on with the walnut and honey filling. This is not hard work! Pour 200g of good runny honey into a saucepan along with 150g of soft light brown sugar, 100g of unsalted butter, cut into pieces, the finely grated zest of a lemon and a teaspoon of ground cinnamon, and let these melt together over low heat.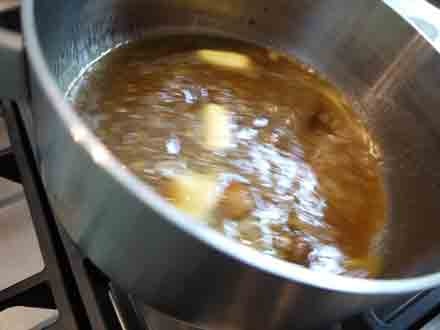 Just the smell of this wafting up from the stove is reassuring. Once the honey mixture is a warm, smooth goo, take the pan off the heat and let it stand on a cold surface for 15 mins. Meanwhile whisk together 3 eggs, roughly chop 250g walnuts and measure out three quarters of a cupful breadcrumbs (not the ones that come in tubs and look like orange sand!) or pour into a measuring jug until they come up to in-between the 150 and 200ml mark.. I find it easier to specify volume, as I don't find weights of breadcrumbs to be at all consistent, but I will tell you, in case you want to know, that my very dried-out breadcrumbs weighed 50g.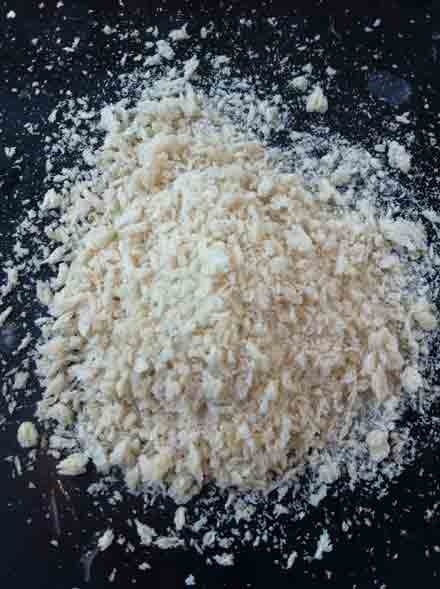 Once the pan of honey mixture's cooled for its 15 minutes, whisk in the eggs and stir in the roughly chopped walnuts and the breadcrumbs, take the flan tin out of the freezer and pour and scrape the autumnally aromatic mixture from the pan into the flan dish, then put in the oven and bake for about 40 minutes or until the mixture is a set and treacly brown. It might be wise to check at 30 mins (I always do) and if your oven hasn't got an even heat, turn it round for the last 10 mins.
Remove from the oven, leave on a wire rack to cool and then let the flan ring slip away, just by sitting the tin on tall jar or something similar, so that the base can lie flat and the ring drops to the kitchen surface, and then put proudly on a flat serving dish.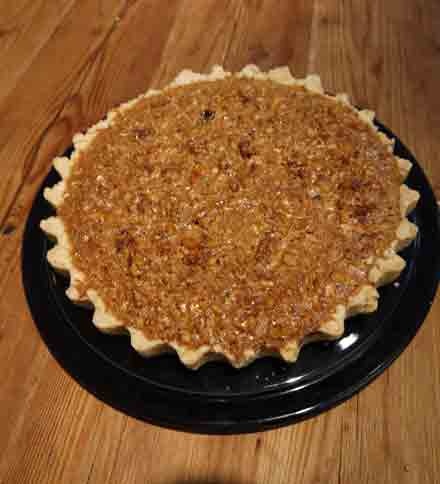 I think this is lovely when it's cooled but still has a little bit of the oven's warm breath on it, but it's great cold, too; either way, for me it must have some thick double cream splurged alongside. A final note: since sweetness is the whole point of the pie, I don't want to apologise for it, but I should warn that a little goes a long way. Think of it as baklava in pie form: yes, that good, but that intense!