Print me
Introduction
This is lovely with a salad that cuts through the sweetness - watercress and shaved fennel is good - with a buttermilk dressing. Brown rice or spelt are perfect alongside.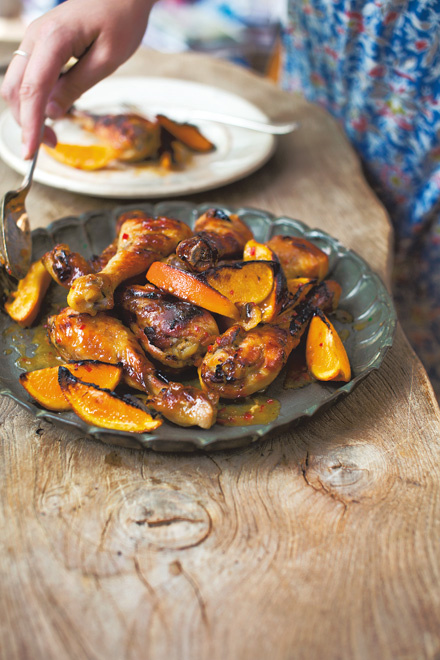 8 chicken drumsticks
150 grams orange marmalade
4 teaspoons Dijon mustard
3 tablespoons bourbon
2 cloves garlic (crushed)
2 fresh red chillies (halved, deseeded and finely chopped)
2 oranges (preferably thin-skinned) halved and cut into wedges (about 2cm thick)
salt
black pepper
Please note that nigella.com is not able to accept responsibility for any substitutions that Ocado may need to make as a result of stock availability or otherwise. For any queries, head to ocado.com/customercare.
Feel free to use the "swap" feature and adjust brands and quantities as needed.
Method
Bourbon and Marmalade-Glazed Drumsticks is a guest recipe by Diana Henry so we are not able to answer questions regarding this recipe
Make small slits in the drumsticks with a sharp knife. In a small bowl, mix 2 tbsp of the marmalade and 1 tsp of the mustard. Set aside. In another bowl, mix the remaining marmalade - squash it down with the back of spoon to break it up - the remaining mustard, the bourbon, garlic and chillies. Put the chicken into this and turn it over so it gets well coated. Cover and put in the fridge for a few hours (or leave it all day, or overnight if you prefer). Bring it to room temperature before cooking.
When you're ready to cook, preheat the oven to 210°C/410°F/gas mark 6. Put the drumsticks - with all the marinade and any juices - into a roasting tin or gratin dish where they can lie in a single layer. Add the orange wedges. Turn the chicken and oranges over so that the oranges get coated in the marinade, too. Season everything with salt and pepper.
Roast for 40-45 minutes, until the drumsticks are cooked through, glossy and almost caramelized.
In the last 10 minutes of the cooking time, brush the top of the drumsticks with the reserved marmalade and mustard.
Lift the oranges and drumsticks on to a serving platter and spoon some of the juices over the top. You can't eat the orange skin, but the flesh is nice: sweet and tart.
Other recipes you might like