Print me
Introduction
The original incarnation of this stew would have used mutton in place of lamb, so if you can find it, please don't hesitate to use that instead. To get the best out of mutton, you have to cook it really slowly, so this is the perfect recipe for it, but lamb neck also works well, and the stew benefits from the extra fat you find in younger lamb. The first recipes for hotpot can be traced back to the mid-nineteenth century, when few people would have had their own oven, so it's likely that this was cooked in clay pots in the communal bread oven as it cooled. Despite this dish's rustic origins, this recipe takes the cheaper cuts of lamb and transforms them into something really rather beautiful.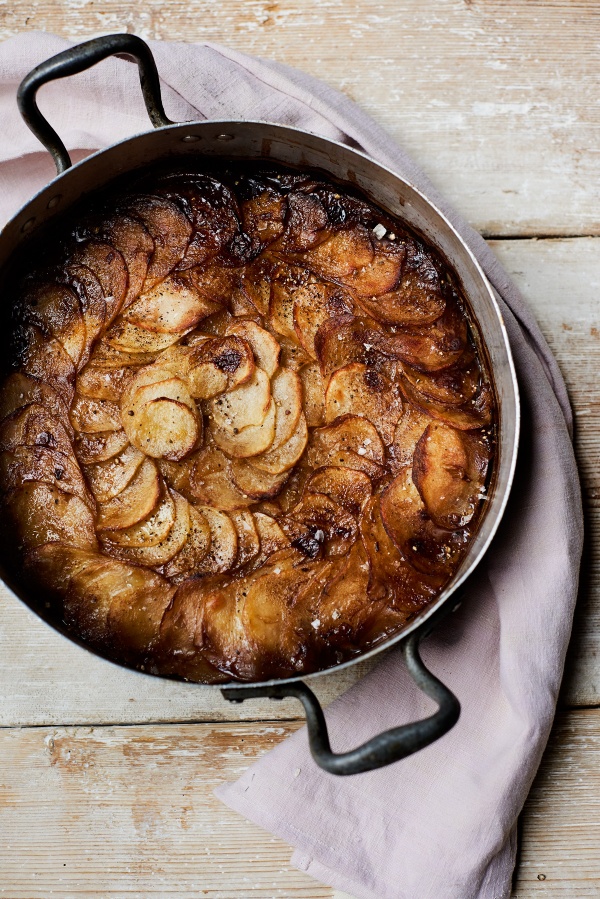 4 tablespoons rapeseed oil
900 grams mutton or lamb neck fillet - cut into 9 pieces (about 3 large neck fillets, each cut into 3 pieces)
300 grams lambs' kidneys - sinew removed, cut in half lengthways
300 millilitres red wine
4 onions - thinly sliced
2 bay leaves
3 sprigs of fresh rosemary
1 bunch fresh thyme sprigs
1 teaspoon plain flour
500 grams good-quality fresh beef stock - the more gelatinous the better
1 teaspoon redcurrant jelly
550 grams waxy potatoes - peeled and very thinly sliced, ideally with a mandolin
sea salt
freshly ground black pepper
Please note that nigella.com is not able to accept responsibility for any substitutions that Ocado may need to make as a result of stock availability or otherwise. For any queries, head to ocado.com/customercare.
Feel free to use the "swap" feature and adjust brands and quantities as needed.
Method
Lamb Hotpot is a guest recipe by Gizzi Erskine so we are not able to answer questions regarding this recipe
First brown the meat. Heat 2 tablespoons of the rapeseed oil in a heavy-based pan over a high heat and brown the lamb neck and kidneys in two batches until they are a deep colour. Set aside. Pour the wine into the pan to deglaze it, scraping all the nice meaty bits off the bottom with a wooden spoon.
While you are deglazing the pan, heat the remaining oil in a heavy-based casserole over a medium heat, add the onions and cook for about 25 minutes until well softened, throwing in the herbs half way through. Once they are nice and soft, stir in the flour and cook it for a minute.
Transfer the meat to the casserole, add the stock, cover with a lid and cook over a medium heat for 2 hours. Then stir in the redcurrant jelly and season liberally. Some people may query why I stew rather than casserole in the oven. I think you have more control over the whole process this way. Slow casseroling can leave quite an intense aftertaste. Also, I like my stew to be quite liquid with lots of gravy. Don't forget that the potatoes will soak up quite a lot of the juice and the richness you would normally achieve by reducing will happen later when you bake it with the potato slices.
Preheat the oven to 180°C/160°C fan/gas mark 4. Carefully layer the potatoes over the top of the stew. Take your time with this, and make it beautiful, until the meat is totally covered in potato slices. Cover with a layer of baking parchment followed by foil. Find a small ovenproof pie dish that you can use as a weight to press the whole thing down and place in the oven for 30 minutes. Then remove the weight, foil and parchment and return to the oven for a further 30 minutes to allow the potatoes to brown and the excess liquid to evaporate.
Other recipes you might like