Print me
Introduction
Various forms of this lentil dish, which you likely know as mujadara, are popular throughout the Middle East; some with tomato, others with just onion, spiced or with herbs. You can think of it as a rice side, but we often eat this Cypriot version as a main meal with a vinegary chopped salad, and thick Greek yoghurt if we're not fasting.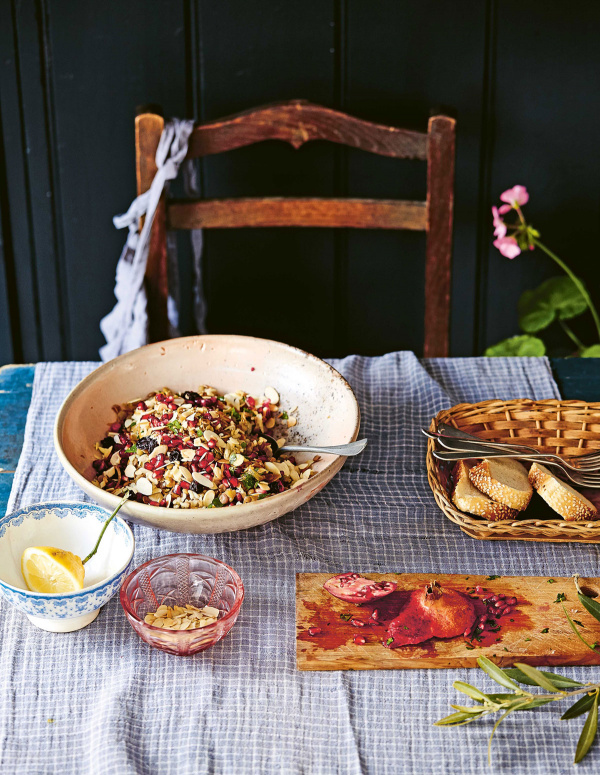 sea salt
freshly ground black pepper
250 grams dried green or brown lentils
130 grams long grain rice
4 onions
3 garlic cloves
4 tablespoons olive or sunflower oil
1 teaspoon cumin seeds
½ pomegranate
1 bunch of flatleaf parsley
50 grams toasted flaked almonds
50 grams dried sour cherries
½ lemon
Method
Jewelled Moutzentra is a guest recipe by Georgina Hayden so we are not able to answer questions regarding this recipe
Place a large pan of salted water on to boil. Throughly rinse the lentils in a sieve, picking out any stones, and then cook in the boiling water for 20 minutes, until almost cooked. Meanwhile, rinse the rice in a sieve, then add to the pan for a further 12 minutes, until perfectly cooked - the rice isn't meant to be mushy (although if I am making it just for me, I do like it a little mushy and so add an extra 2 minutes). Drain the rice and lentils in a sieve or fine colander, and return to the pan to steam dry and keep fluffy.
While the lentils are cooking, peel and finely slice the onions and garlic. Place a large frying pan on a medium heat and pour in the oil. Sauté the onions, garlic, cumin and a good pinch of salt and pepper for 20 minutes, until deep golden brown. To encourage them, I cover the frying pan with a lid for 10 minutes, adding a splash of water if needed, then fry uncovered for 10 minutes. Stir occasionally. While that's happening, pick the pomegranate seeds. Pick and roughly chop the flatleaf parsley leaves, and toss them with the toasted flaked almonds, sour cherries and pomegranate seeds. Squeeze over the juice from the lemon half, and toss it all together. When the onions are ready, stir through the cooked lentils, check the seasoning and plate up. Garnish with the dressed fruits and nuts to serve.
Other recipes you might like