Print me
Introduction
When the temperature nose dives and the world is looking grey, few things provide more comfort than shepherd's pie. Our version at Jikoni is made with scrag end of lamb - that's the neck - rather than mince. The long, slow cooking this cut requires results in a deep, hearty flavour and intensely soft meat. A whack of spcies will warm you right through to your shivering bones - and, of course, there is still the thick insulating layer of buttery mashed potatoes. This is foodie anti-freeze!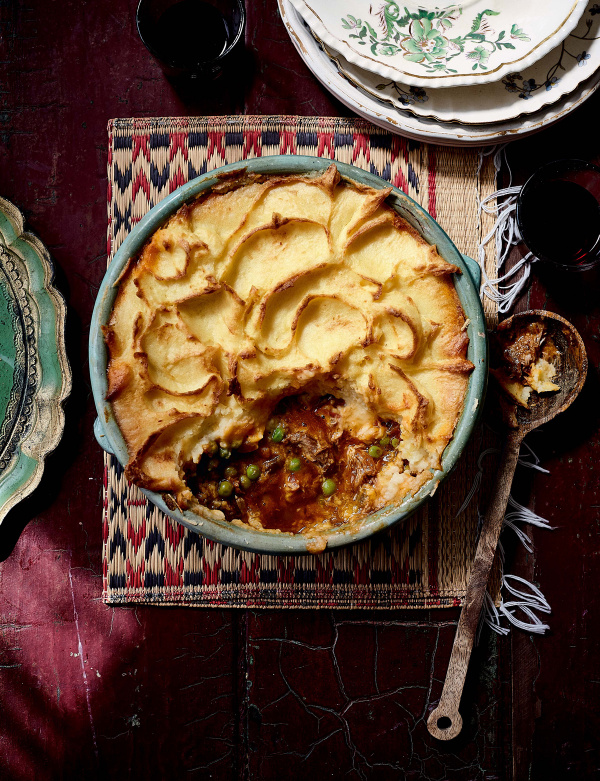 2 tablespoons rapeseed oil
1 kilogram scrag end of lamb
2 red onions (finely chopped)
2 carrots (peeled and finely chopped)
2 sticks celery (finely chopped)
8 green cardamom pods (bruised)
1 black cardamon pod (bruised)
2 teaspoons cumin seeds
1 teaspoon ground cinnamon
200 grams tinned chopped tomatoes
2 tablespoons tomato puree
6 cloves of garlic (finely chopped)
Thumb of fresh ginger (finely grated)
2 green chillies (finely chopped)
200 grams frozen peas
2 tablespoons red wine vinegar
sea salt
black pepper
For the topping
40 millilitres whole milk
40 millilitres double cream
1 small onion studded with 4 cloves
½ teaspoon black peppercorns
1 bay leaf
1 clove of garlic (bruised)
1 teaspoon ground turmeric
½ teaspoon smoked hot paprika
750 grams floury potatoes
75 grams butter
2 egg yolks
Method
Spicy Scrag End Pie is a guest recipe by Ravinder Bhogal so we are not able to answer questions regarding this recipe
Heat the oil in a large, heavy-based saucepan over medium heat, add the scrags and brown well, then set aside. Add the onions, carrots and celery to the pan and fry, stirring regularly, until they are soft and golden brown. Add the cardamom pods, cumin seeds and cinnamon and fry for a few minutes until they're beautifully fragrant. Pour in the tomatoes and the tomato puree, then add the garlic, ginger and chillies. Season with salt and pepper, then bring to the boil and let it bubble away for 8 minutes. Return the lamb to the pan and pour in enough water to cover. Put on the lid and leave to cook over very low heat, stirring every so often, for about 3 hours or until the meat is falling off the bones.
For the topping, put the milk and cream into a small saucepan and pop in the clove-studded onion, peppercorns, bay leaf, garlic, turmeric and paprika. Bring to a simmer, then take off the heat and leave to infuse while you get on with the potatoes.
Boil the potatoes in a saucepan of salted water until tender. Drain and mash until smooth and lump-free, then beat in the butter and egg yolks. Strain the infused milk and cream, discarding the solids, then slowly pour into the mash and mix well. Season to taste with salt and pepper.
Preheat the oven to 200°C/Fan 180°C/Gas Mark 6.
Transfer the lamb to a bowl and, when it is cool enough to handle, pull the meat off the bones in chunky shreds. Return the meat to the pan and mix in the peas and vinegar, then pour the whole lot into an ovenproof dish. Smother with the mash, scraping it into peaks in places - these bits will go lovely and crisp. Bake in the oven for 25-30 minutes until bubbling and golden, then serve.
Other recipes you might like