Print me
Introduction
This recipe is for dark, wintery weekends when warming yourself with cooking seems the only way forward. I like to make it on Saturday morning and then let it sit somewhere cool overnight so that the flavours have time to develop. The fruity, raisin-like flavours of the pasilla chilli go well with the prunes and add real depth to the beef shin. If you can't find pasilla use a touch of cayenne instead. I like to make lots as it's so easy and keeps brilliantly in the freezer so double the recipe if you like.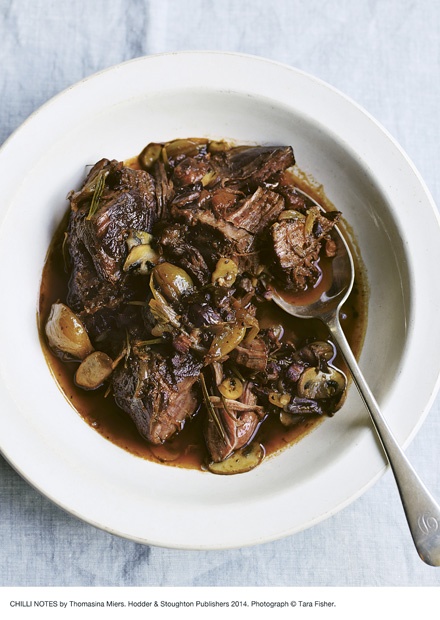 1¼ kilograms shin of beef or other stewing cut (cut into 3 or 4 large chunks)
25 grams pasilla chillies (de-stemmed, de-seeded and torn into 3-4 pieces each)
1 chile de arbol
3 tablespoons vegetable oil
200 grams pancetta cubes
400 grams shallots (peeled and quartered)
½ bulb of garlic (cloves separated and peeled)
200 grams chestnut mushrooms (thinly sliced)
60 millilitres sherry vinegar
½ bottle red wine
190 grams prunes (stoned and chopped)
400 millilitres beef stock
3 sprigs of fresh rosemary
Please note that nigella.com is not able to accept responsibility for any substitutions that Ocado may need to make as a result of stock availability or otherwise. For any queries, head to ocado.com/customercare.
Feel free to use the "swap" feature and adjust brands and quantities as needed.
Method
Shin Of Beef With Pasilla Chilli, Rosemary and Prunes is a guest recipe by Thomasina Miers so we are not able to answer questions regarding this recipe
Preheat the oven to 130°C/250°F/gas ½.
Season the beef chunks well with salt and pepper. Heat a frying pan over a medium heat and when hot add the chillies. Toast for a minute or two until they start smelling aromatic but take care not to burn or they will taste bitter. Remove from the pan and soak the chillies in just enough boiling water to cover.
Heat a tablespoon of oil in the bottom of a heavy-based casserole dish over a medium high heat and fry the lardons in 2 batches until browned and crispy. Set aside in a large bowl, turn the heat down a touch and add the shallots and garlic, seasoning well, and frying them in the fat of the lardons in 2 batches until soft and a little coloured. Remove from the pan and add to the bowl with the lardons.
Add another tablespoon of oil to the pan, turn the heat right up and fry the mushrooms for about 10 minutes until any moisture from the mushrooms has evaporated and they have turned golden. Set aside on a plate for later.
Add the remaining tablespoon of oil and fry the pieces of beef over the high flame until browned all over. Now pour in the vinegar and wine, letting them bubble and de-glaze the pan (if your pan is black and burnt from browning the beef, wipe it out with a clean dishcloth first) before returning the pancetta, shallots and garlic to the pan, along with the prunes, stock and rosemary. Bring to the boil, cover and transfer to the oven. Cook for 4 hours or until the beef is soft and falling apart.
Just before you serve the stew, add the mushrooms, stir, and allow the stew to bubble a little over a medium-low heat.
Additional Information
Tip: Browning the beef shin in a few large pieces instead of lots of small chunks will take a fraction of the time. If you can't get shin, by all means use another stewing cut, but shin has brilliant depth of flavour.
Other recipes you might like