More recipes
Recipe search
Raspberry & Lemon Cake (Vegan version)
A community recipe by

BakingWithHoney

Not tested or verified by Nigella.com
Print me
Introduction
This is a straightforward vegan version of Nigella's original recipe in Simply Nigella. A couple of simple tweaks results in a deliciously moist cake that is dairy free, gluten free and now egg free too!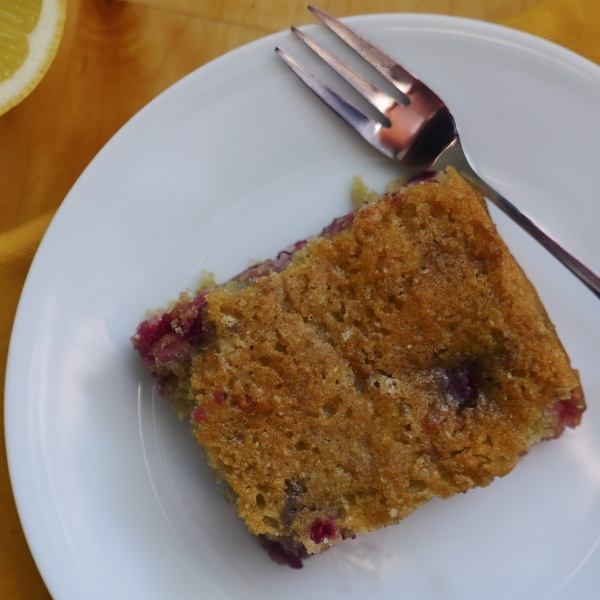 125 grams caster sugar
100 grams ground almonds
125 grams cornmeal (fine polenta)
1 teaspoon gluten-free baking powder
1 teaspoon bicarbonate of soda
75 millilitres oil (Sunflower, rapeseed or light olive oil)
200 millilitres soya milk
1 teaspoon apple cider vinegar
1 zest of unwaxed lemon
150 grams raspberries (frozen)
Method
Raspberry & Lemon Cake (Vegan version) is a community recipe submitted by BakingWithHoney and has not been tested by Nigella.com so we are not able to answer questions regarding this recipe.
Preheat the oven to 180c/350f/gas mark 4 and line a 20cm/8" square tin with baking paper. Allow a bit of overhang so you can easily lift the cake out. Make sure the oven is fully preheated before you start mixing things as this recipe takes minutes to make and it's important to get it straight in the oven before the raising agents wear off!
In a bowl, stir together the caster sugar, ground almonds, cornmeal/fine polenta, bicarb and baking powder.
In another bowl or jug, combine the oil, milk, vinegar and lemon zest (squeeze out the juice and reserve until later) then pour this on to the dry mix. Use a silicone spatula or a wooden spoon to quickly mix together until there are no 'dry' bits visible. The batter should be pretty smooth but don't break your back over it.
Gently fold in about 100g of the raspberries. The idea here is to keep them whole. When they start breaking up, they taint the lovely yellowness of this cake so go easy! Now pour the mixture into your prepared tin. Level it out, then poke the remaining raspberries over the top (I always do this as I find there are usually bare sections of cake mix longing for a raspberry).
Bake in the middle of the oven for around 40 minutes. You can safely check after about 35. It's done when the top looks quite golden (eggless cakes rarely go quite as darkly golden as cakes containing eggs, so go easy here) and a cake tester should only show crumbs. When you're happy it's cooked, remove from the oven and gently brush the reserved lemon juice all over the top.
Leave to cool for about ten minutes then use the excess baking paper to gently lift out the slab of golden deliciousness and allow to cool for a bit longer on a cooling rack. Vegan cakes tend to be quite delicate as they lack the strength and structure provided by the eggs; so although the original cake is delicious when eaten warm, I would recommend waiting for this vegan version to cool a little longer before slicing. If you're not bothered about neatness, then just get stuck in whenever you please.
Other recipes you might like