More recipes
Recipe search
Chicken Masalaedar Roast
A community recipe by

pakodachronicles

Not tested or verified by Nigella.com
Print me
Introduction
A spicy Chicken roast with freshly ground masala paste, makes this dish juicy and equally yummylicious. The caramelized onions gives some needed sweetness for this roast.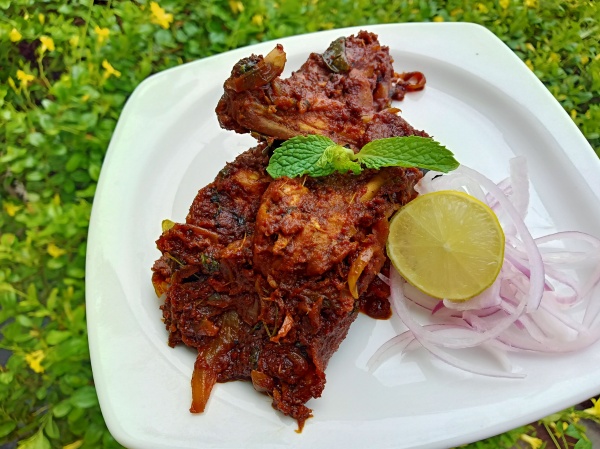 For the masala paste
15 dried red chiles (broken)
2 teaspoons cumin seeds
1 teaspoon fennel seeds
1 teaspoon peppercorns
1 teaspoon coriander seeds
1 inch ginger
6 cloves garlic
1 handful cilantro leaves
1 handful curry leaves
2 green chiles
1 inch cinnamon sticks
1 teaspoon ground turmeric
2 tablespoons oil
For marination
1 pound chicken (washed and cleaned)
1 teaspoon red chile powder
1 teaspoon ground turmeric
1 teaspoon salt
1 teaspoon sugar
4 tablespoons oil to sear the chicken
For the roast
2 onions (thinly sliced)
1 sprig curry leaves
2 teaspoons tamarind paste
1 teaspoon jaggery
1 teaspoon lemon juice
1 teaspoon cilantro leaf (chopped, for garnish)
1 teaspoon salt
Please note that nigella.com is not able to accept responsibility for any substitutions that Ocado may need to make as a result of stock availability or otherwise. For any queries, head to ocado.com/customercare.
Feel free to use the "swap" feature and adjust brands and quantities as needed.
Method
Chicken Masalaedar Roast is a community recipe submitted by pakodachronicles and has not been tested by Nigella.com so we are not able to answer questions regarding this recipe.
The chicken is shallow fried initially and added to the ground paste , which helps the chicken to burst out all the flavors once its brought to the table.
Add 2 tablespoon of oil to a pan and roast all the ingredients given under "For the masala paste" together for 2 minutes.
Then put the ingredients from the pan into a blender and grind it into a smooth paste.
Meanwhile marinate the chicken with turmeric, salt, red chile powder.
In a pan, add a 4 tbsp of oil and sear the marinated chicken from all sides until it gets slightly browned. Add sugar at the end and cook for a minute. Take out the chicken.
In the same pan, add onion and curry leaves. Saute well until the onions turns translucent.
Now add the ground masala paste and the shallow fried chicken and Let it cook for a minute.
Add tamarind paste, jaggery powder, salt followed by 1/4 cup of water and allow the chicken to cook on a medium low flame.
Mix well so that the masala gets coated well on the chicken. Simmer it for 10 minutes, until you find the oil oozing out, and the masala gets completely coated in the chicken.
Add cilantro leaves at end and now the chicken masaledar is ready to serve with any kind of bread or rice.
Add lemon juice for some extra kick before you switch off the flame and give a quick mix.
Other recipes you might like