Print me
Introduction
Have you ever run out of Suet and wanted to make Dumplings and then wondered how you can without suet. I invented this one and it is nice if you want to make Dumplings. I use butter instead of suet and it works well every time. It does taste different and has a different texture to suet dumplings but no one will know if you don't tell them.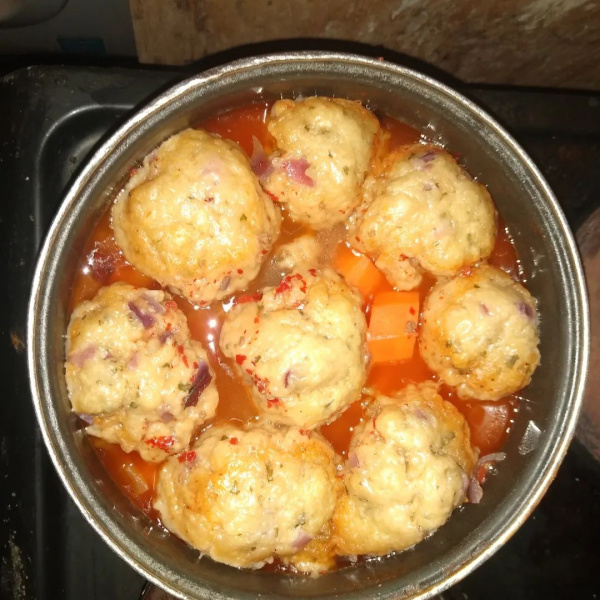 250 grams self-raising flour (sieved)
75 grams butter
1 small red onion (chopped)
1 tablespoon dried parsley
6 tablespoons red wine vinegar
Please note that nigella.com is not able to accept responsibility for any substitutions that Ocado may need to make as a result of stock availability or otherwise. For any queries, head to ocado.com/customercare.
Feel free to use the "swap" feature and adjust brands and quantities as needed.
Method
Emergency Dumplings is a community recipe submitted by Brybaz and has not been tested by Nigella.com so we are not able to answer questions regarding this recipe.
Put self-raising flour in a bowl and add the parsley and chopped red onion mixing well.
Rub the butter and flour into fine bread crumbs along with the other ingredients.
Add the red wine vinegar until you make a dough. Add more vinegar if it is too dry until it is the right dough texture.
Pull a small handful and roll into a ball and put on top of the stew, leaving enough space to expand. Continue until all the dough is used up. You should have 8 balls.
Cover and cook in the stew for about 45 mins until double in size and looks like suet dumplings.
Additional Information
TIP:
You can use any herbs or spices and water instead of vinegar depending on your taste. The vinegar gives the dumplings extra special flavour and the red onion gives a please look too.
Other recipes you might like