Print me
Introduction
Okay, this is not something to eat, but it takes five minutes to make and will keep little ones happy making pretend cakes, biscuits etc., while you can get on and make the real ones!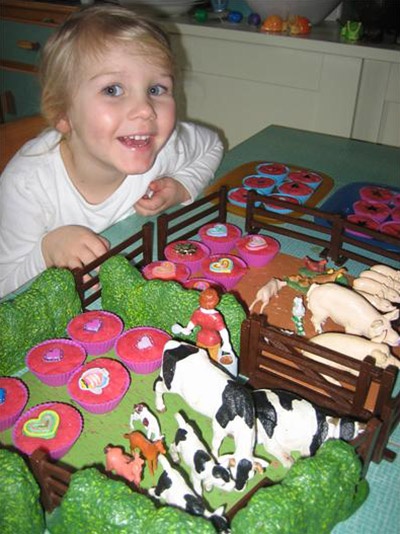 1 cup flour
½ cup salt
2 tablespoons cream of tartar
1 tablespoon vegetable oil
1 splash of food colouring
1 cup boiling water
Method
Home Made Play Dough is a community recipe submitted by Ericthekat and has not been tested by Nigella.com so we are not able to answer questions regarding this recipe.
Put the kettle on to boil.
Put all the other ingredients into a large bowl. Don't stir, just dump them in.
Pour over the boiling water and then stir like mad, until everything comes together.
Turn out onto a floured surface and knead for a couple of minutes until it is the right colour and consistency. Done!
Additional Information
Amounts can obviously be upsized or downsized easily. This keeps really well in sealed plastic containers or plastic freezer bags. Can be used to make treats for plastic farm animals (see pic).
Other recipes you might like