Print me
Introduction
This pie is perfect for hot summer days.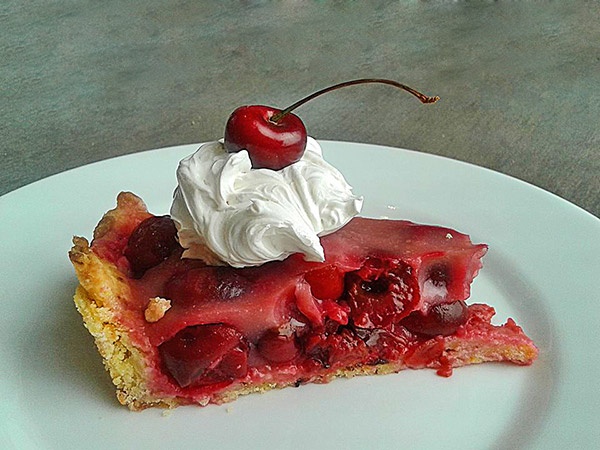 For the Crust
2 cups flour
1 cup sugar
1 teaspoon salt
1 teaspoon baking powder
1 teaspoon vanilla extract
zest of 1 lemon Or use a grapefruit or orange
1 teaspoon rum
1 egg
1 cup butter
For the Cherry Filling
2⅕ pounds cherries
1 cup sugar
3 teaspoons cornstarch
2 teaspoons flour
1 cup milk
Method
Perfect Cherry Pie is a community recipe submitted by Kanegari and has not been tested by Nigella.com so we are not able to answer questions regarding this recipe.
Drop the flour on table (this will be our working surface- no mugs). Now add the softened butter- make sure it is cut into little squares, so it would be easy to work with it. Add the sugar, baking powder, salt, lemon zest and start kneading. Now add the egg and continue kneading. Don't be afraid, if it looks messy, soon alll ingredients will incorporate.
Add the vanilla extract and rum, knead a bit more, give it a bowl form and put in the fridge for 20 minutes.
While the dough is chilling let's do the first step of our cherry filling. Remove the cherry pits, move them into a bowl and add 1 cup of sugar.
Done, now leave the cherries, let them loose some moisture. We will soon get back to them.
After 20 minutes you can take the dough out and start the next step - rolling. Make sure your working surface is sprinkled with flour to prevent the dough from sticking.
Roll the dough into a 12-inch circle; about 1/8 of an inch thick. Don't push too much while rolling.
Carefully place onto a 9-inch pie plate (make sure it is buttered or sprinkled with non stick spray). You can use kitchen scissors or a simple knife to trim the dough to within 1/2 inch of the edge of the pie dish.
Preheat your oven to 302 °F (150 °C).
Line the pie crust with parchment paper (or wax paper). Fill with pie weights - dry beans, rice. Be sure you filled at least two-thirds of it. Now prebake the dough in the oven for 10-20 minutes.
Remove the pie crust from the oven. Separate the cherries from their juice. Now fill the crust with cherries and put it back to the oven for more 10-20 minutes.
Now put a saucepan on a medium high heat. Combine cornstarch, flour, sugar, mix them untill well incorporated and add to the saucepan. Add also the milk and stir. Continue stiring for more 2 minutes and add the cherry juice. Don't stop stiring untill you see, that your mixture gets firm. You can also add some cherry liquor in the end to give it deeper flavor
When the mixture starts getting firm you can turn the heat off.
Remove the pie from the oven and pour the mixture all over it.
Chill it for 30 minutes then move to the refrigerator for more 3-4 hours. For better taste you can leave it overnight.
Additional Information
You can serve it with whipped cream or ice cream.
This pie version is perfect for hot summer days- cold, light, with a wonderfull harmony of flavors.
Other recipes you might like