More recipes
Recipe search
Peanut Butter and Jelly (Jam) Flapjacks
A community recipe by

cloud9point1

Not tested or verified by Nigella.com
Print me
Introduction
Peanut butter and jam (or should I say 'jelly'?), that much-loved American pairing, arguably the Pot Noodle of the sandwich world. Quick, unsophisticated and little nutritional value, but hits the spot every time. It translates wonderfully into flapjack form and they're extremely easy to make.
These flapjacks make a really satisfying snack and, surprisingly, aren't too cloyingly sweet. I think they're the perfect balance of sweet, salty, crispy and chewy. The strawberry glace icing turns them into a bit more a treat but certainly isn't essential so feel free to skip this part.
Oh, and this recipe is gluten-free (if gluten-free oats are used – check the packet) and can be made vegan very easily!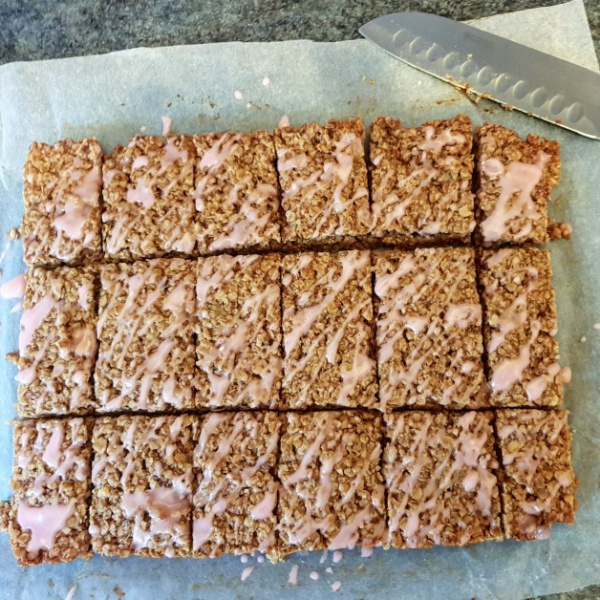 Flapjacks
270 grams oats
40 grams butter or vegan alternative
85 grams peanut butter
130 grams brown sugar
3 tablespoons strawberry jam
1 tablespoon golden syrup
Please note that nigella.com is not able to accept responsibility for any substitutions that Ocado may need to make as a result of stock availability or otherwise. For any queries, head to ocado.com/customercare.
Feel free to use the "swap" feature and adjust brands and quantities as needed.
Method
Peanut Butter and Jelly (Jam) Flapjacks is a community recipe submitted by cloud9point1 and has not been tested by Nigella.com so we are not able to answer questions regarding this recipe.
Pre-heat the oven to 180℃ (or 160℃ fan) and line a rectangular baking tin with parchment paper.
Place the butter, peanut butter and sugar together in a large heatproof bowl and melt together in the microwave on low heat until smooth.
Add the oats and jam to the bowl and stir thoroughly.
Pour the mixture into the prepared baking tin and place in the oven for around 20 minutes, or until the flapjacks are very slightly browned at the edges.
Leave to cool on a wire rack before slicing.
Drizzle a mixture of 2 tbsp icing sugar + a few drops of strawberry extract + water over the top as a finishing touch if you wish.
Other recipes you might like