Print me
Introduction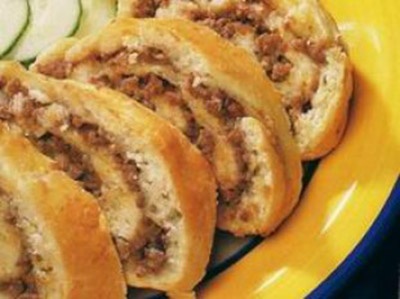 Ingredients
Serves: 4 – 6
For the Filling
30 millilitres cooking oil
400 grams minced beef (topside)
1 medium onion (chopped)
2 cloves garlic (crushed)
1 pinch of salt
1 pinch of black pepper
30 millilitres chopped fresh parsley
200 millilitres chutney
For the Dough
280 grams self-raising flour
2 millilitres salt
5 millilitres sugar
30 grams butter
50 grams Cheddar cheese (grated)
1 medium egg
125 millilitres milk
Method
Mince Roll is a community recipe submitted by Petronell and has not been tested by Nigella.com so we are not able to answer questions regarding this recipe.
Filling
Heat oil and fry mince until colour changes.
Add onion and garlic and sauté a few minutes. Season with salt, pepper and parsley.
Add chutney and leave to cool slightly.
Dough
Sift flour, salt and sugar.
Rub in margarine and add cheese.
Beat egg and milk, add to dry ingredients, and mix to a soft dough.
Roll out into a 20 cm x 30 cm rectangle.
Spoon meat onto dough, roll up like a Swiss roll, and place on a greased baking tray. Make a few incisions in roll.
Brush with beaten egg or milk. Bake in a preheated oven at 180 °C (350 °F) for 50 minutes. Tip Cut roll into 2,5 cm slices, freeze, and bake as required.
Other recipes you might like