More recipes
Recipe search
Rigatoni Al'Arrabbiata Con Crema
A community recipe by

abdulmismail

Not tested or verified by Nigella.com
Print me
Introduction
This is a slight adaptation of your standard Al'Arrabbiata and is such a simple dish to make yet incredibly effective. I've been making for over 25 years and my most recent version was sensational.
You can use any type of Napolina pasta such as Fusilli, Penne, Spaghetti or Linguine but my preference is to use Rigatano or Penne since the shape of the pasta allows the sauce to be carried within. For me, that enhances the sensation.
My adaptation includes the use of just two large Scotch Bonnet chillies. Any less will make the dish to bland but any more could ruin the dish. The addition of a medium tub of single cream at the end subdues the strength of the chilli but if you're making the dish for your kids, perhaps cook two portions of the sauce; one minus the chillies and the other with.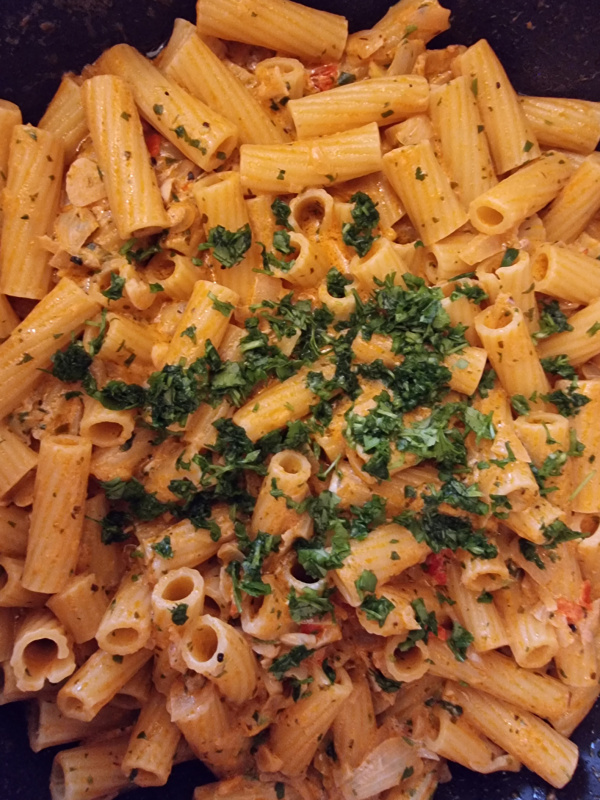 2 medium onions (chopped)
6 cloves garlic (select the largest cloves and thinly slice)
2 large chilli (finely chopped Scotch Bonnet chillies, any colour)
1 teaspoon black pepper
1 teaspoon dried Italian herbs (I use Schwartz Italian Herb Seasoning)
1 tablespoon extra virgin olive oil (add an extra tablespoon if you desire it)
1 teaspoon salt
4 stalks fresh parsley (chopped)
300 millilitres single cream
400 grams chopped tomatoes
500 grams rigatoni pasta (I use Napolina Rigatoni Pasta)
25 grams French butter
Please note that nigella.com is not able to accept responsibility for any substitutions that Ocado may need to make as a result of stock availability or otherwise. For any queries, head to ocado.com/customercare.
Feel free to use the "swap" feature and adjust brands and quantities as needed.
Method
Rigatoni Al'Arrabbiata Con Crema is a community recipe submitted by abdulmismail and has not been tested by Nigella.com so we are not able to answer questions regarding this recipe.
Put a large, deep pan of water (for the pasta) on high heat and bring to boil then reduce to simmer as you prepare the following. Remember to add a teaspoon of salt and a tablespoon of olive oil to the water.
Chop the onions, garlic, Scotch Bonnet chillies then put aside in a bowl.
Add Italian seasoning, black pepper and salt to (2).
Preheat the extra virgin olive oil in a pan then add all ingredients, i.e., (2) and (3).
Allow to cook on high heat until onions turn translucent (i.e., somewhat clear). That should take no more than five minutes.
Add the tin of tomatoes (or Passata - see Additional Method, below), stir and cook for around 5 minutes on high heat. Add the French (preferably "President") butter - chopped into a few cubes - before giving it another stir. Then place the lid on the pan, remembering to reduce heat to simmer for 20 minutes.
Add the (Rigatoni) pasta to the boiling water in the separate pan from Step (1), which takes approximately 13 minutes (BUT only cook for 9 minutes - this is VERY important)
Add the single cream to the sauce, stir thoroughly and allow to simmer for an additional five minutes while the pasta is cooking.
Drain water from pasta via a colander and add a dash of olive oil to the drained pasta and stir. This ensures pasta does not stick.
Add the pasta to the sauce and mix thoroughly but gently to ensure not to break the pasta. Maintain simmer for an additional 3 to 5 minutes to allow the pasta and sauce to mix.
Rinse the fresh parsley thoroughly, cut off the root end of the stalks. Squeeze excess water from the parsley finely chop before adding to the past sauce mix.
Additional Information
I find the following method really enhances the flavour - and that is to create your own Passata which should be used as a replacement to the 1 tin of tomatoes and not an addition. This literally takes 1 minute to make.
Add the tin of chopped tomatoes to a deep bowl.
Add 1 teaspoon of salt, 4 leaves of fresh Basil (which was not listed in the ingredients) and 1 tablespoon of extra virgin olive oil.
Blend all your ingredients to make a Passata. I used a hand-held food mixer and literally gave it a few blasts because you want to keep a few lumps and not make it too runny. You can use a smoothie machine or blender on very low setting.
You could buy Napolina Passata but I found this method was so much better!
Another 'ingredient' which wasn't listed was Ciabatta. It's not necessary but it really adds to the sensation. Simply slice the Ciabatta and semi-toast it to "mop up" the sauce.
Other recipes you might like