More recipes
Recipe search
Sausage & Prawn Jambalaya
A community recipe by

theaveragejosh

Not tested or verified by Nigella.com
Print me
Introduction
As the winter months approach, the idea of sitting around a table and eating a hot meal as a family or group seems more and more appealing. No where does family intimacy in a pot better than New Orleans, and this New Orleans inspired Sausage & Prawn Jambalaya is ridiculously easy to make for such occasions. Think of it as a slightly spicy version of sausage casserole, but with rice instead of veg. This recipe is also a great way to get family cooking together, which also saves on chopping up loads of veg, but can still easily be made by one very patient person. I have to admit, it was my Dad who taught my brother and I how to make this, but he was completely fine with me claiming it for my blog.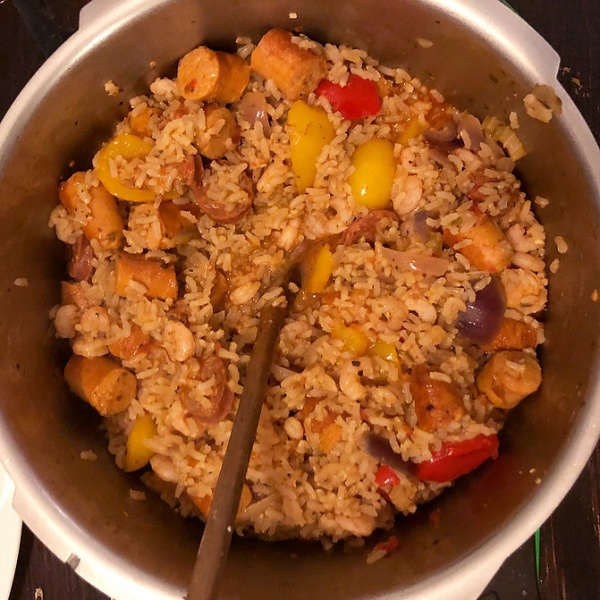 150 grams chorizo
600 grams sausages
1 red pepper
1 yellow pepper
2 red onions
1 green chilli
4 cloves garlic
1 stick celery
3 teaspoons cajun seasoning
2 teaspoons dried oregano
1 can chopped tomatoes
500 grams brown rice
1 litre chicken stock from a stock cube
Please note that nigella.com is not able to accept responsibility for any substitutions that Ocado may need to make as a result of stock availability or otherwise. For any queries, head to ocado.com/customercare.
Feel free to use the "swap" feature and adjust brands and quantities as needed.
Method
Sausage & Prawn Jambalaya is a community recipe submitted by theaveragejosh and has not been tested by Nigella.com so we are not able to answer questions regarding this recipe.
Start by browning off the sausages in a hot pan with a bit of oil, just a few at a time, and them removing them to a plate. Prepare the vegetables: peel and slice the onion, deseed and roughly chop the peppers and chilli, crush and finely chop the garlic and finely slice the celery.
Cut the chorizo ring into about 5mm slices and stick them in the pan on a lowish heat. When the chorizo starts to give off a bit of oil, add the chopped vegetables to the pan with a pinch of salt and peppers, and let everything sweat on a lowish heat for 3-5 minutes.
Cut the sausages into chunks and add them to the pan, then add the seasoning, oregano and the rice. Give everything a stir and then add the tomatoes, then pour over enough chicken stock to cover the rice and stir again.
Bring everything to the boil and then let everything simmer with a lid on for 20 minutes, stirring occasionally. If you need to, add a splash more chicken stock towards the end, just to stop the rice from drying out. Then, rinse the frozen prawns and add them to the Jambalaya, and leave it so simmer for another 3-5 minutes with the lid off. This is ready to serve when almost all of the stock has been absorbed and the prawns have turned pink.
Other recipes you might like