Print me
Introduction
Inspiration for this recipe came a couple of years ago when I went on a wonderful holiday to the Netherlands, home of the delicious stroopwafel. For anyone who doesn't know, a stroopwafel is a chewy caramel-filled circular waffle that's just big enough to sit happily on the top of your cup of tea, where the warm rising steam renders its centre even more delightfully gooey (although they're also just as scrumptious minus the mug sauna).
One of the many edible souvenirs that I brought back with me was a packet stroopwafel cake mix, and it tasted so good it made me want to have a go at making my own version. The melting pools of caramel and chewy, crunchy top are to die for.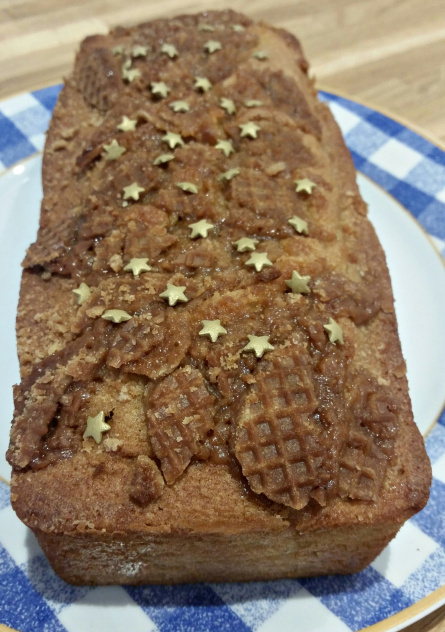 170 grams self-raising flour
140 grams caster sugar
30 grams dark brown sugar
3 eggs
170 grams butter
1 tablespoon vanilla extract
4 biscuits stroopwafels, chopped into pieces no smaller than a pound coin (would recommend using scissors for this)
Method
Stroopwafel Cake is a community recipe submitted by cloud9point1 and has not been tested by Nigella.com so we are not able to answer questions regarding this recipe.
Pre-heat the oven to 170℃ (or 150℃ fan) and line a loaf tin with parchment paper.
Add the butter and sugars to a large mixing bowl and beat until pale, then whisk in the eggs.
Fold in the flour, vanilla extract and half of the stroopwafel pieces, then transfer the mixture into the loaf tin.
Place in the oven and bake for 20 minutes. Remove and scatter the remaining stroopwafel pieces over the top of the cake, then return to the oven for a further 10-15 minutes, or until a cocktail stick inserted into the sponge comes out clean.
Transfer to a wire rack to cool before removing the cake from the tin. Finish with a scattering of edible gold stars if you like.
Other recipes you might like