Print me
Introduction
This 'rocky tart' is decadent, indulgent and rich yet dairy free. A rocky road and chocolate tart hybrid that is a perfect pudding.
This recipe can be made vegan by replacing the marshmallows for nuts and dried fruit.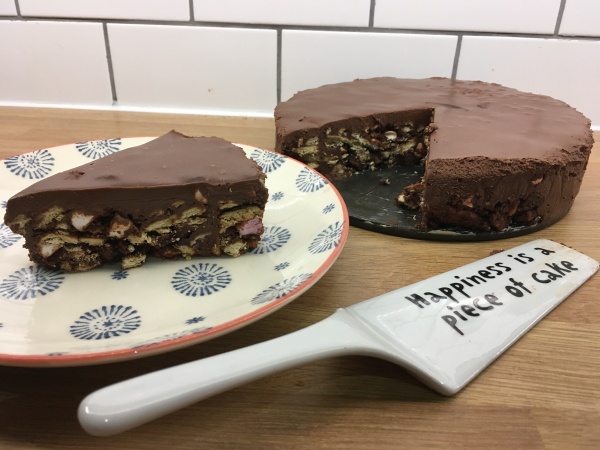 the base
300 grams rich tea biscuits
3 tablespoons golden syrup
125 grams vegan butter I used pure sunflower spread
100 grams mini marshmallows substitute for nuts and dates if making vegan version
50 grams brazil nuts roughly chopped - only use if making the vegan version
50 grams chopped dried dates only use if making the vegan version
the topping
220 grams dark chocolate
400 millilitres coconut milk stirred so it is not separated
Please note that nigella.com is not able to accept responsibility for any substitutions that Ocado may need to make as a result of stock availability or otherwise. For any queries, head to ocado.com/customercare.
Feel free to use the "swap" feature and adjust brands and quantities as needed.
Method
Rocky tart is a community recipe submitted by thedancingbaker and has not been tested by Nigella.com so we are not able to answer questions regarding this recipe.
For the base:
Melt the vegan spread, syrup and cocoa powder in a small pan over a low heat.Stir gently until the butter has melted and then remove from the heat. Do not allow the mixture to burn.
In a separate bowl, lightly bash the biscuits with end of a rolling pin until you have some larger pieces and some smaller crumb like pieces.Add the marshmallows or nuts and dates (whichever you are using).
Pour the slightly cooled, melted mixture over the biscuits and stir until everything is coated in the sticky chocolate mixture.
Pour into a greased round 9 inch tin – preferably a loose based or spring form tin as it is easier to remove later.
Put in the fridge to set for at least two hours.
For the topping:
Melt the chocolate in a heat proof bowl over a pan of barely simmering water, ensuring the water does not touch the bottom of the bowl. Once melted, remove from the heat.
Pour the coconut milk in to the melted chocolate and mix until thoroughly combined.
Leave to cool slightly before pouring over the top of your rocky road base.
Put back in the fridge and leave to set for a further two hours.
Once set, remove from the tin, slice and enjoy!
Other recipes you might like