Print me
Introduction
This turnip tart makes a beautiful side dish for any dinner party or holiday meal. Season with the herbs of your choice.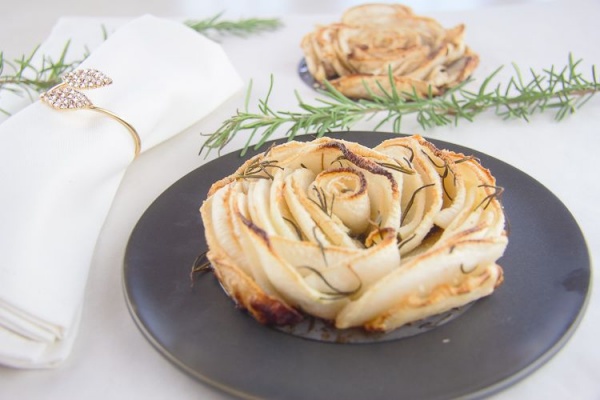 1 turnip Medium
30 olive oil Extra Virgin
1 teaspoon salt
1 teaspoon black pepper
2 heaped tablespoons zaatar Or spices of choice
Method
Turnip Tart is a community recipe submitted by DivaliciousRecipes and has not been tested by Nigella.com so we are not able to answer questions regarding this recipe.
Preheat the oven to 200C/400F degrees.
Peel the turnips and cut into half.
Thinly slice the turnip (as thin as you can is better).
In a bowl add the olive oil and seasoning of choice.
Add the turnip slices, season with salt and pepper and toss until all slices are covered.
Either using a small quiche tin or a muffin tin, place the turnip slices into the dish to arrange a rose shape. Start with the outside pieces and work your way into the middle. For the centre piece, use a very thin slice and roll into a tight roll and slices around it. Place in the centre and fashion slices around it.
Bake for 35-40 minutes until golden and soft.
Towards the end of the baking time, if the edges of the turnip slices start to crisp, add a dollop of butter and bake until soft and golden.
Remove from the oven and serve immediately.
Other recipes you might like