Print me
Introduction
Yes these are vegan but taste deep and chocolatey. Use 80%+ dairy free dark chocolate and good quality dairy free chocolate chips or chunks. If you can't find any, chop up the same quantity of dairy free dark chocolate. Cooking is also deceptive, these may seem still squidgy but harden on cooling so try 20-25 mins and see how they fare, allowing 5-8 minutes more if the centre is still very soft.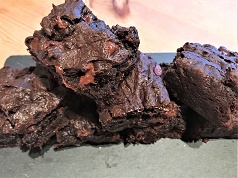 250 grams plain flour
1 teaspoon bicarbonate of soda
100 grams granulated sugar
100 grams soft dark brown sugar
175 grams dark chocolate
65 grams vegan margarine
1 banana
1 tablespoon fresh brewed coffee
50 grams glace cherries quartered
50 grams almonds roughly chopped
50 grams chocolate chips
1 tablespoon vanilla essence
Please note that nigella.com is not able to accept responsibility for any substitutions that Ocado may need to make as a result of stock availability or otherwise. For any queries, head to ocado.com/customercare.
Feel free to use the "swap" feature and adjust brands and quantities as needed.
Method
Wicked Brownies is a community recipe submitted by Cookie891 and has not been tested by Nigella.com so we are not able to answer questions regarding this recipe.
Line a brownie pan (mine is 25 cm x 25 cm but any deepish squarish pan of a similar size will do) with baking parchment. Set oven at gas mark 4/180 F/350 C.
Sieve flour and bicarb with a pinch of fine salt into a large bowl and set aside.
Put banana (as ripe as possible) into a food processor with the sugars, coffee and vanilla essence, process until smooth. Or you can do this by hand with a large fork or wooden spoon.
Snap into pieces the 175g of dark dairy free chocolate and put in a microwavable bowl and add the margarine. Melt slowly until the chocolate is liquid - be careful to choose a low or medium setting as the margarine will get hot quickly and the chocolate may seize if it overheats.
Pour in the banana/sugar mixture into the melted chocolate/margarine and stir well.
Pour the chocolate/banana mixture into the sieved flour and bicarb, add the cherries, nuts and chocolate chips and stir until combined but do not over mix or beat too much.
The mixture may be quite stiff but don't add any liquid, just press it evenly as you can into the brownie pan and bake in the centre of the oven for 20-25 mins. Check how soft the middle is (and how dry the edges are and allow only another 5-8 mins if it needs more). The brownies harden on cooling and that fudgy quality will be lost if over-baked.
Leave in tin until cool and cut into 16 squares (less or more if you prefer!)
Dust with icing sugar (if liked) before serving. Will keep in an airtight tin for a week. Also freeze well for 1-2 months if wrapped securely in foil.
Other recipes you might like