Print me
Introduction
If Christmas isn't the time for a kitsch cocktail, I don't know when is. And while I have nothing against a straightforward Snowball (and I make mine with one part advocaat to about 3 parts lemonade, and a spritz of lime), I think we all need something a little stronger this year. And so, to bring camp comfort and cheer, I bring you my Snowball in Heaven. I propose then, a ratio of two parts vodka to one part advocaat, a splosh of lemonade and, if desired, a spritz of lime or lemon juice. But if you want a gentler cocktail, then simply go for one part vodka to two parts advocaat before topping up with lemonade. Of course, you could always leave out the lemonade altogether, in which case you'd have, rather delectably, a Custard Martini! Of course, any way you choose to mix this cocktail it should, ideally, be topped with a maraschino cherry. Sadly, I don't have any of those, which is why my Snowball in Heaven here is cherry-less.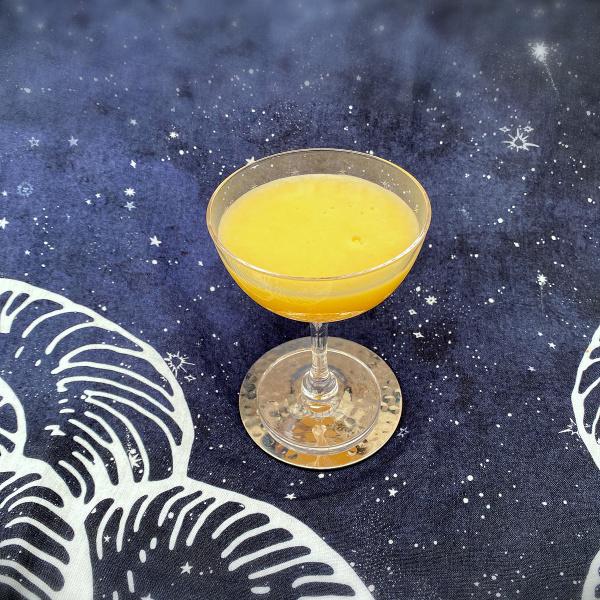 2 shots vodka
1 shot advocaat
lemonade to top up
a spritz of lemon juice or lime juice (optional)
1 maraschino cherry (optional)
Method
Fill a cocktail shaker with ice.
Add vodka and advocaat (using just 1 shot of vodka and 2 of advocaat if you want a gentler cocktail) and shake well before straining into a martini glass or champagne coupe; these amounts are enough for a glass of 125ml / ½ cup capacity.
Top with a splosh of lemonade and, if wished, add a spritz of lemon or lime juice and a maraschino cherry. Chin-Chin!
Additional Information
MAKE AHEAD / STORE:
It is not advisable to make ahead or store.
Other recipes you might like