More answers
Praised Chicken
Asked by aleciamac. Answered on 31st March 2015
Full question
I have been meaning to make Nigella's My Mother's Praised Chicken recipe for years and finally gave it a go last night. It was delicious and the stock was the best I've ever tasted. However I found a lot of the meat fairly tough. My question is, would this be because I poached the chicken for too long and not long enough? I cooked it for about 90 minutes including standing time (with the lid on, in the oven at 150 degrees celcius, as our electric stove top can't seem to go low enough to simmer). The vegetables were very soft. Just wondering, does the chicken behave like other meats (e.g. lamb shanks) and continue to tenderise the longer it is cooked at low temperatures? Or should I have taken it off sooner? I would love to be able to get this dish 'right', because if I can make the chicken tender it is sure to be an absolute family favourite. Thanks, Alecia.
Our answer
Nigella's My Mother's Praised Chicken (from Kitchen and on the Nigella website) is a poached whole chicken with vegetables. Nigella likes to serve the chicken and vegetables with bowlfuls of brown rice, accompanied by mustard and dill. The chicken is poached in a large saucepan on top of the stove and the liquid in the pot should not be boiling but be at a gentle simmer.
From the description of tough chicken and soft vegetables it sounds to us as if the chicken was allowed to boil too hard in the pot. If the chicken is boiled rather than gently poached then the meat will tend to become tough and stringy and the vegetables will tend to become too soft. Unfortunately in this instance longer cooking will not help that much as a chicken does not have the same type of connective tissue as braising cuts such as lamb shanks, and it is the connective tissue in these meats that breaks down with long cooking. The oven temperature of 150C is probably too high (especially if it is a fan oven) and you may need to use a lower temperture. However this dish is best cooked on the stove top or hob as it is much easier to watch the pot and turn down the heat if necessary. It may help to try looking for a heat diffuser (sometimes called a simmer ring). These are fairly inexpensive pieces of metal with a handle that sit between the heat source and the pan and help to keep the heat low and even. Do make sure however that it is suitable for use with your type of electric stove top, particularly if you have a ceramic or induction hob.
Recipes you might like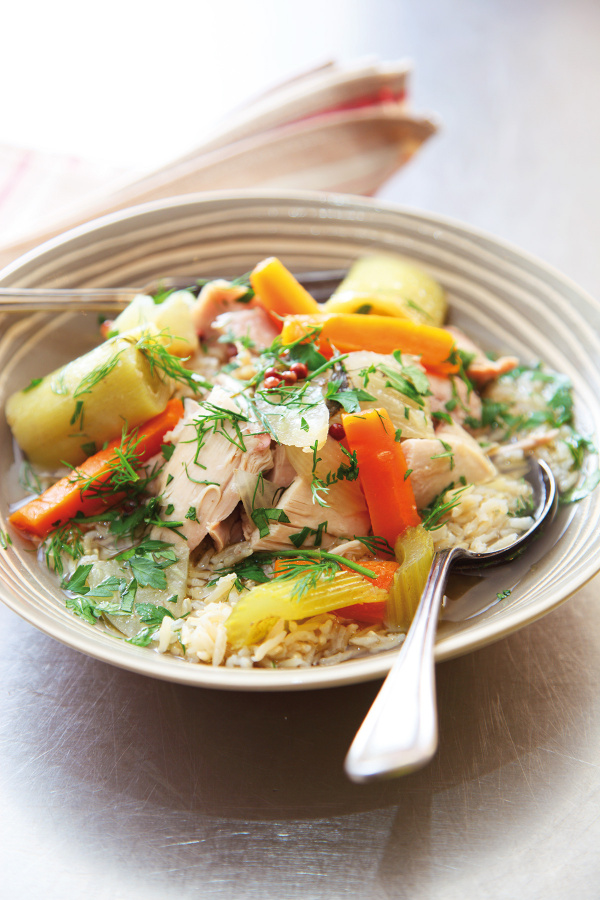 My Mother's Praised Chicken