Full question
When I make the custard for the Italian Christmas Pudding Cake, the filling always curdles when adding the heavy cream to the mascarpone and eggs. Do you know what could be wrong?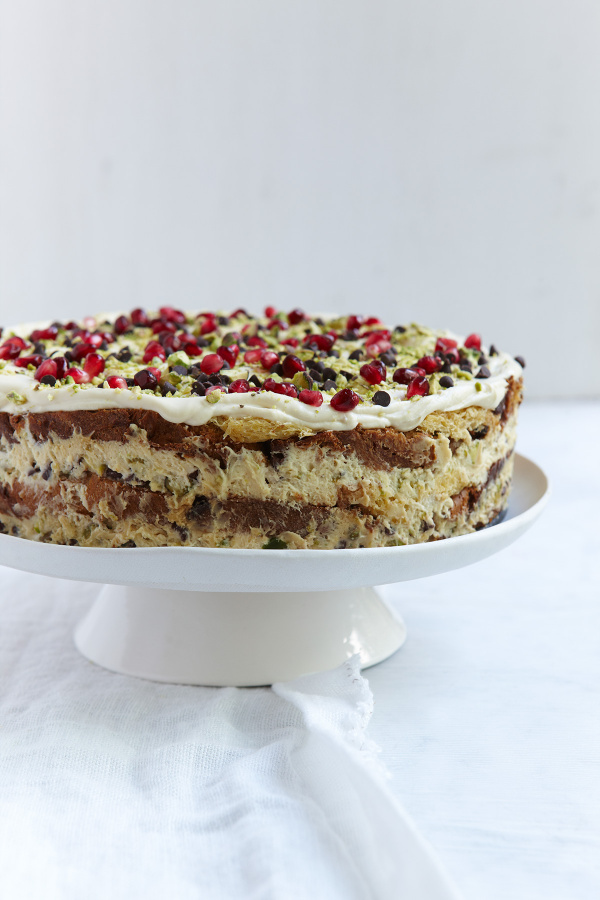 Italian Christmas Pudding Cake
Our answer
Nigella's Italian Christmas Pudding Cake (from NIGELLISSIMA) has slices panettone that are layered with a tiramisu-type cream. The cream is made from whisked eggs, sugar, mascarpone, double (heavy or whipping) cream amd marsala and studded with chocolate chips, pistachios and marrons glaces. The eggs and sugar are whisked until moussey and then the mascarpone and cream are added.
If the mixture is curdling it is likely that the mascarpone has been whisked too much, particularly if a high powered freestanding mixer is used. Marcarpone has a high fat content and it is easy to beat it too far, so that the fat molecules start to clump together and squeeze out the water molecules and giving the appearance of a curdled mixture. We would suggest mixing the mascarpone into the eggs on very low speed and once it is just combined add the cream. Alternatively if you are concerned you could mix the mascarpone and cream together first (very gently with a mixer or by hand) until just combined and then add this to the eggs. As the cream will loosen the mascarpone this will make it easier to add the two into the whisked eggs without overmixing.