Full question
The Spiced and Superjuicy Turkey looks so delicious - but I have read that the only time you ever need to gently and carefully rinse a turkey is when you brine it, otherwise it is ever so salty. Does Nigella rinse any of the brine off?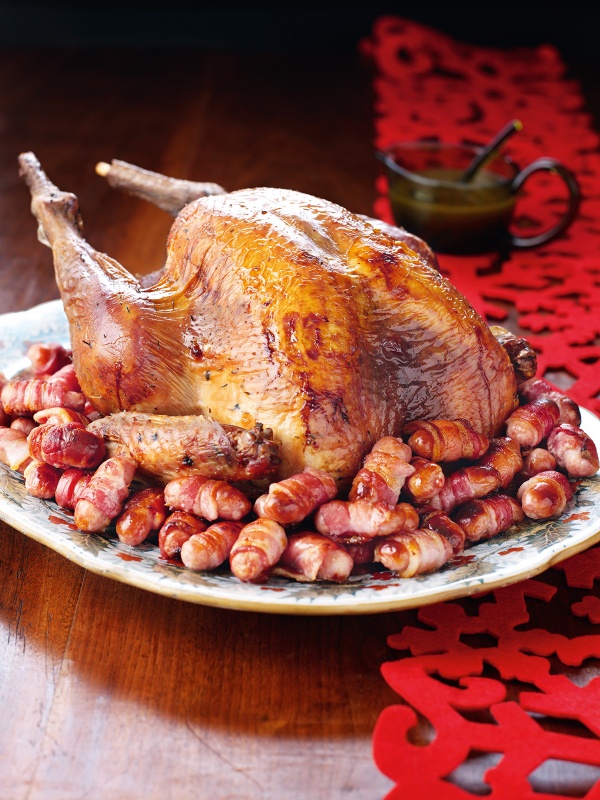 Spiced and Superjuicy Roast Turkey
Our answer
Nigella's Spiced And Superjuicy Roast Turkey (from NIGELLA CHRISTMAS) brines the turkey in a solution of salt, sugar, maple syrup and spices. Brining helps to keep the turkey moist while it roasts and the spices and seasoning impart flavour to the turkey meat.
Some people will rinse the turkey after brining but partly it depends on how saline the brining solution is. Rinsing the turkey removes the brine from the skin and cavity, it doesn't affect the flavour of the flesh. In this recipe the salt level is not that high, which means the turkey can be brined for up to 2 days without making the bird excessively salty. But we do suggest draining the turkey thoroughly and wiping it dry with kitchen paper (paper towels) before cooking it. Also we don't recommend stuffing the cavity of this turkey or using the pan juices for gravy, as this is where you would taste the salt from the brine.