Full question
I want to cook the Slow Roasted Garlic And Lemon Chicken for a party of 20 people. Do I need to increase the cooking duration and can it be cooked a day in advance and reheated? If it can, what would the best way be to reheat?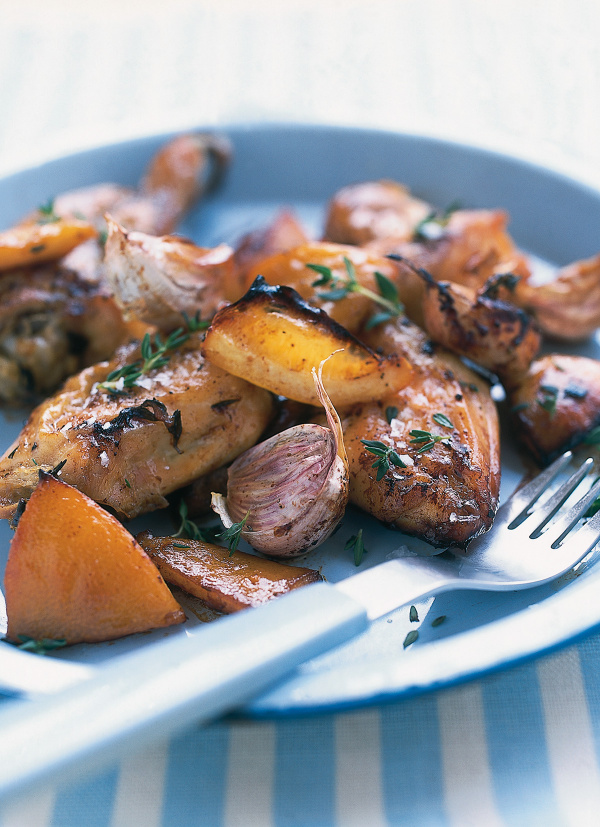 Slow Roasted Garlic and Lemon Chicken
Our answer
Nigella's Slow Roasted Garlic And Lemon Chicken (from NIGELLA SUMMER) is a very popular dish as it requires very little effort from the cook but yields moist, tender chicken with crisp skin. Unfortunately we don't recommend cooking the dish in advance and reheating it as the chicken can dry out on reheating and it is difficult to get the skin crisp on reheating. Leftovers are best eaten cold. You can prepare the ingredients up to the end of step 2 the night before, wrap the roasting tins tightly with clingflim (plastic wrap) and store in the fridge until needed. Unwrap the tins, then add wine, salt and pepper before covering with foil and putting in the oven.
The recipe serves 4-6 people so you are likely to need to make 3-4 times the quantity in the recipe, depending on appetites and what else you are serving alongside. You may find it easier to use chicken thighs on the bone, rather than jointing several chickens (use 8 thighs for each recipe quantity). Make sure that you do not overcrowd the roasting tins, as if the chicken is too tightly packed into the roasting tins then the skin will not crisp up properly and the lemon will not caramelise. If you add a large quantity of cold food to the oven then it can drop the temperature in the oven, even if it has been preheated, and can extend the cooking time. The initial cooking time is quite long, at 2 hours, so we suspect that you do not need to add more than 10 to 15 minutes to the initial cooking time, but check that the chicken is cooked through before removing the foil and increasing the oven temperature.