Print me
Introduction
I love the fact that, even though we live in different continents, every Easter my mother and I make the same hot cross buns.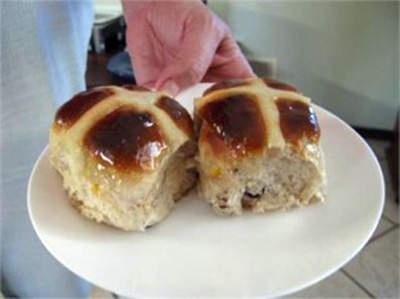 4 cups all-purpose flour (please try and use a breadmaking or bakers flour, you will get a much superior result)
1 beaten egg
1 teaspoon salt
10 dried yeast (1.5 sachets)
½ teaspoon nutmeg
1 teaspoon ground cloves
1 teaspoon ground cinnamon
¼ cup sugar
2 ounces butter
1½ cups warm milk
½ cup golden raisins (and/or raisins)
1 tablespoon currants
1 tablespoon finely chopped mixed peel
Method
My Mum's Hot Cross Buns is a community recipe submitted by Ericthekat and has not been tested by Nigella.com so we are not able to answer questions regarding this recipe.
Mix together dry ingredients including yeast in a large bowl. Make well in centre, add milk, beaten egg and melted butter. Mix to a soft dough. Turn out on to lightly floured bench top and knead vigorously for 5-8 minutes. Very important - for a start it will be sticky and you will probably have to add a fraction more flour but keep kneading and after five minutes or so it will start to not be sticky and when you press the dough with your finger it will bounce back. It will be smooth and shiny. It changes quite dramatically and suddenly you will know when it is ready.
Put dough in greased bowl, sprinkle with a few drops of warm water and cover with cling film or damp cloth. Leave in a warm place to rise to double in size - it will take about an hour.
Knock back dough and put on bench and knead in the mixed fruit (about two minutes). Divide dough into 16 equal pieces and shape into smooth balls.
Place on a greased tray quite close together and set aside to rise until double in size, about 20-30 minutes.
Pipe crosses using a mix of three tablespoons of flour and 3 tablespoons water, 1 tablespoon vegetable oil and enough water to make paste with icing-like consistency. Pipe crosses on buns.
Bake in preheated oven 210 degrees C for approx 15-20 minutes until well browned.
While buns are cooking prepare glaze - mix 3 tblsp sugar with 1/4 cup of water and a strip of lemon rind. Bring to boil and simmer for a few minutes until syrupy.
Brush glaze on buns when they come out of oven. Cool buns on a rack or wrap in a tea towel.
Additional Information
This makes quite a large quantity (16) but recipe can be halved.
Best eaten warm, or toasted, with lemon curd (in my opinion)!
Other recipes you might like