Full question
There is a small place in my mind that wonders if brining a chicken would be a great idea before roasting. Do you have any suggestion or indication about it?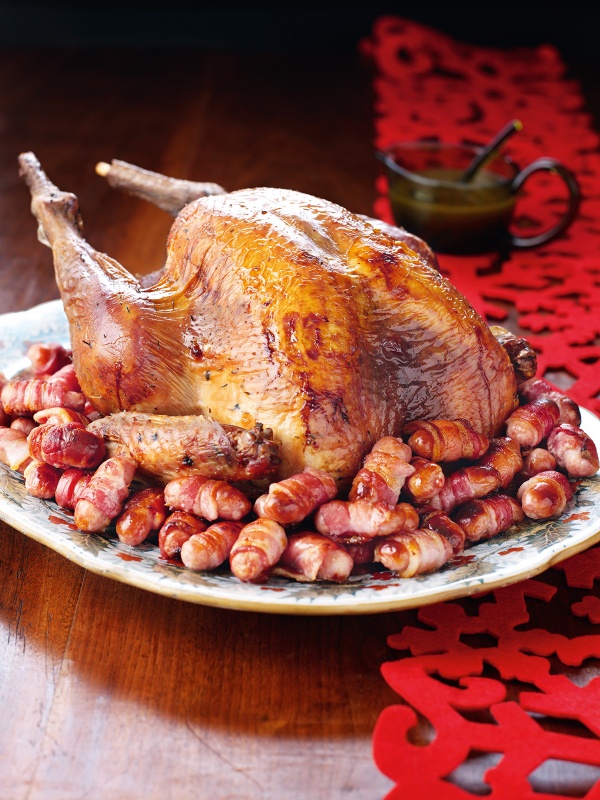 Spiced and Superjuicy Roast Turkey
Our answer
Nigella's Spiced And Superjuicy Roast Turkey (from NIGELLA CHRISTMAS) soaks the turkey in a saline bath that has been infused with winter spices. Turkeys that have been brined before roasting are moist and juicy after cooking, which is particularly useful for larger birds. It is also possible to brine other lean meats, such as chicken.
If brining a chicken then you will not need such a large volume of brine and we would suggest shortening the brining time. For a standard size chicken (about 1.5kg/3 pounds) we woud suggest making a half quantity of the brine. We would also suggest brining to chicken for up to one day, in the fridge. Let the chicken dry at room temperature for 1-2 hours. As the chicken will be at room temperature when it goes into the oven you may find that the roasting time is slightly shorter than normal, so check it slightly early but always make sure that it is fully cooked. The juices from the thickest part of the thigh should run clear when you pierce the thigh with the tip of a sharp knife.