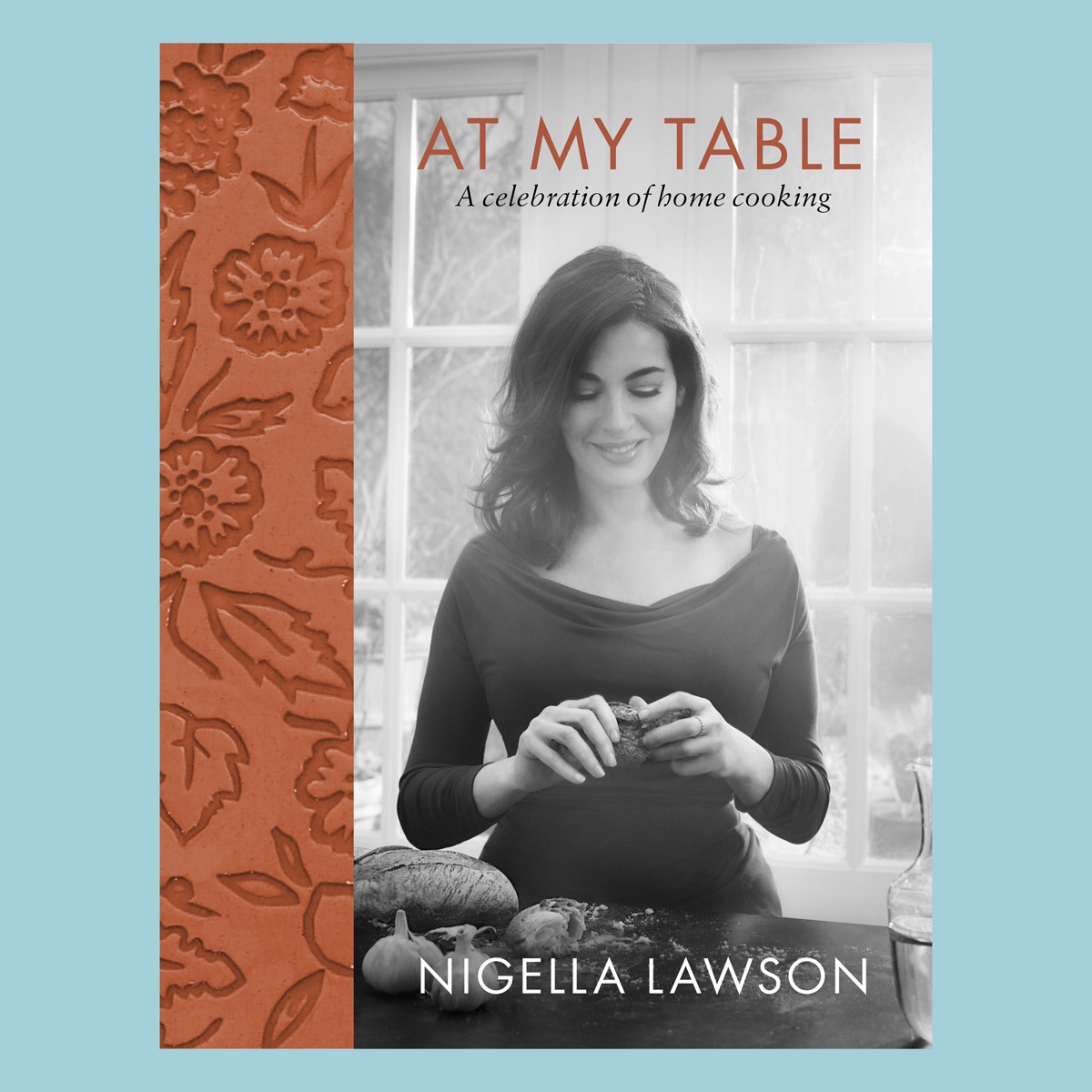 It's no secret that I've been writing a new book, but I have kept pretty quiet about it. But now the recipes are done, the book written, and I've just started the book shoot — which means my house is pleasurably frantic, every surface covered and there are four recipes on the go right now. I love the making of a book, watching the food come to life in the photographs: it is a glorious time. It's also the time to show you the book cover, and to tell you a little more about the book. I'll be brief, since I've got something in the oven and a couple of things on the hob, but here it is: At My Table, a book of recipes that tell my ongoing life with food. It's subtitled 'A Celebration of Home Cooking" and while I admit all my books are indeed a celebration of home cooking, all of us who write about food have our themes and this is mine. Food is not just fuel, it's about memory and the stories of our lives and for me that means the food I ate growing up, the food I've cooked for friends and family sitting around my table and the recipes in this book reflect that. This book, like all the books I've written is not just a manual, but a collection of stories and a container of memories. But of course, for all that, a cookery book — this cookery book — also has to answer that important, everyday question "What are we going to eat?".
Before I go back to the stove now, I'll give you a quick taster of some of the recipes that are in the book: Chicken and Pea Traybake (you know that I am very proud of the accolade 'Queen of the Frozen Pea' bestowed upon me by the great Nigel Slater), Apple Pork Chops with Sauerkraut Slaw, Flash-Fried Squid with Tomato and Tequila Salsa, Fennel and Carrots with Harissa, Moroccan Vegetable Pot, Meatballs with Orzo, Chicken Fricassee (a radical reworking of a recipe from my grandmother's chicken) with Marsala and Chestnuts, Victoria Sponge with Cardamom and Crème Fraîche, White Chocolate Cheesecake, and Emergency Brownies! They're recipes that are favourites around my table, and I hope soon will be at yours.
At My Table will be published here in the UK by Chatto & Windus in September. I can't give details now of when it will be out in other territories, but will keep you all in the loop!
It's a big moment when a book stops being something that's just in my head, my heart and my computer and steps into the real world, and I'm excited (if a little tremulously so) to share it with you.