As those of you who follow me on Twitter will know, I have been majoring on pasta recently. This has made me very popular with my children who - in common with most children, indeed most of us - favour the carboydrate side of life. I thought I'd share this recipe for penne al forno - just plain ol' baked pasta "from the children's menu" as my daughter says.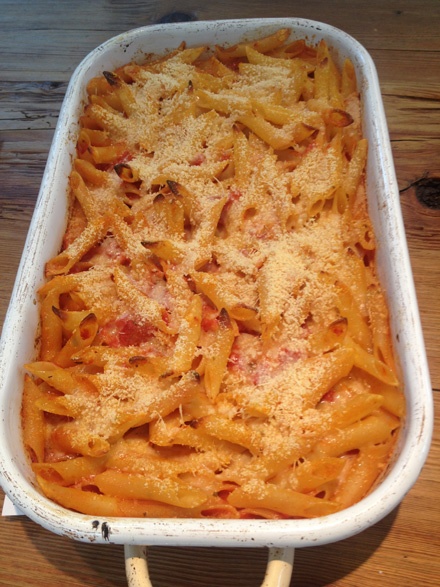 It's incredibly straightforward, but simplicity is always a good sign in cooking. Preheat the oven to 200C and grease a lasagne dish or similar with butter. Chop up two balls of mozzarella (not buffalo mozzarella) and leave to drain a little. Put abundant water on to cook a 500g packet of penne, salting it when it comes to the boil. Make tomato sauce by warming a tablespoonful of regular olive oil in a pan then stir in a minced clove of garlic along with a quarter teaspoon chilli flakes and a teaspoon of dried oregano. Add 2 cans of chopped tomatoes and when everything starts to bubble, add a quarter cupful of red wine or vermouth then let come back to a bubble, then clamp on a lid, turn the heat down and let simmer for 10 minutes while the penne cook, though do drain them when they are still a bit (ital) too (unitals) al dente. Tip the drained pasta back into the pan it cooked in, though off the heat, then pour over the tomato sauce and toss to coat, then add the chopped mozzarella and toss again to mix, before scraping everything into the prepared dish. Sprinkle over about three quarters of a cup of a cup of grated parmesan and bake in the preheated oven for 15-20 minutes and let stand for 10 before diving in.
Perhaps this is too simple to be called a recipe, but regard it is an account of what I do to keep my children happy It's a guide, so feel free to fiddle as you please of course.....