I've been so bad with my Wittering, I must really apologise, but it's been madness here, what with trying to get the book finished and the tv series planned. Actually, the chaos continues, but perhaps that's just as well. I am not suited to stillness!
One of the things I love about cooking is that it never stands still. I am not talking Big Picture here, but everyday: how I cook, what I cook, depends on what I've got in the fridge and of course that changes. The lunch you see pictured here is a case in point: many of you are well acquainted with my Spanish Chicken but I had a butternut that needed using up and so in it went, unpeeled but deseeded and cut into chunks, with the chicken thighs and baby chorizo, some fresh oregano from the giardino strewn on top.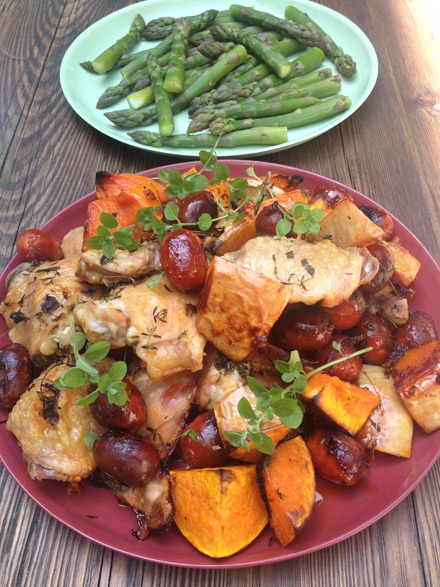 And actually, I sometimes do a chookless version of the above: just butternut, chorizo and cherry tomatoes on the vine. That, for me, is cooking: tinkering and playing, trusting your tastes and what has gone before, but with an eye open for what is possible now.