Print me
Introduction
The radicchio rosso or red radicchio used in Veneto for this dish is the long radicchio of Treviso, which can be bought during the autumn in many specialist greengrocers. It has a deeper, and yet more delicate, bitter flavour than the round Rosa di Chioggia, the variety of radicchio rosso widely available all the year round.
For a vegetarian dish, omit the anchovy fillets and increase the capers to 2 tbsp.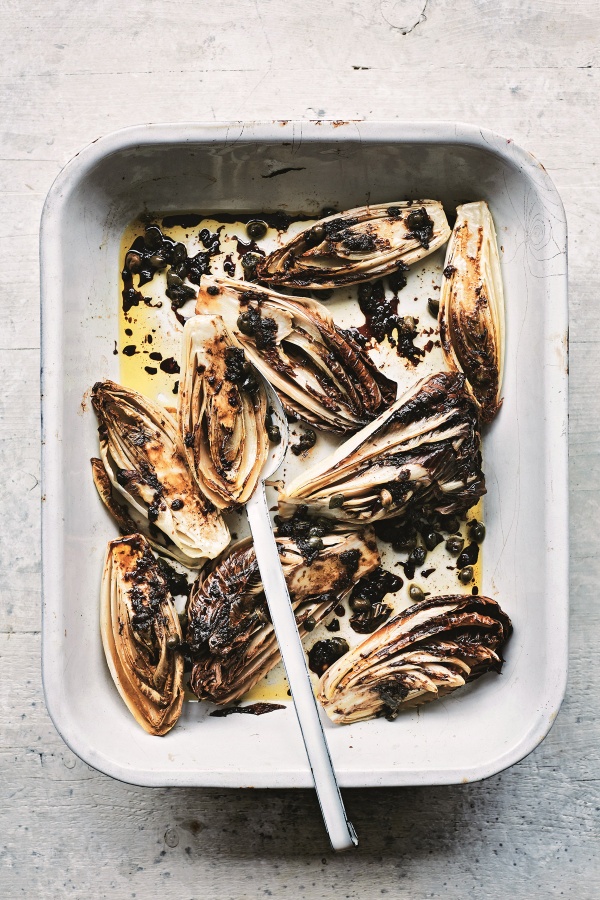 2 bunches radicchio rosso
4 chicory
6 tablespoons extra virgin olive oil
sea salt
freshly ground black pepper
1 clove of garlic (chopped)
8 anchovy fillets (drained and chopped)
1 tablespoon capers (rinsed)
2 tablespoons balsamic vinegar
Method
Grilled Radicchio and Chicory is a guest recipe by Anna del Conte so we are not able to answer questions regarding this recipe
Heat the grill/broiler.
Wash and dry the salad. Cut the red radicchio in quarters and the chicory in half, both lengthwise.
Place the radicchio and chicory cut side up in a deep baking dish and spoon about 4 tbsp of the oil over. Season with salt and pepper and cook under the hot grill for about 8 minutes, taking care to turn the heat down if the vegetables are becoming burnt. Turn the pieces over halfway during the grilling. They are cooked when the core can easily be pierced by the point of a knife. Lay the grilled pieces on a serving dish.
Heat the remaining oil in a small frying pan and add the garlic, anchovy fillets and capers. Sauté gently for a minute or two and then add the balsamic vinegar and cook for a further minute. Season with salt and a generous grinding of pepper and pour on top of the radicchio and chicory.
Other recipes you might like