Print me
Introduction
We make these mini-biscuits as a snack in the Tavern, but I'll make them anywhere, anytime. Try them for breakfast, split in half and topped with a spoonful of scrambled eggs and melted Cabot Clothbound Cheddar; it's a favorite, made by Jasper Hill in Vermont. Since the biscuit dough balls can be frozen and then baked straight from the freezer, it's easy to keep some on hand. (You can make bigger biscuits if you like; just increase the baking time.) If you have the time, freeze the mixed dry ingredients overnight. When the dough is really cold it is more difficult for gluten to form. Less gluten means softer biscuits.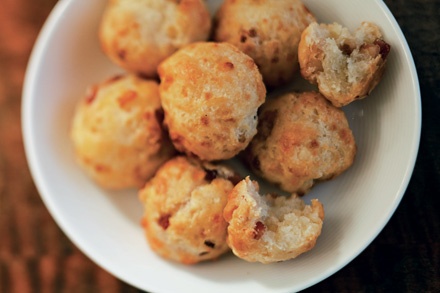 Ingredients
Makes: 50 small biscuits
½ cup diced slab bacon (about 3 ounces)
2¼ all-purpose flour
3¾ teaspoons baking powder
1 teaspoon salt
⅛ teaspoon cayenne pepper
3 tablespoons unsalted butter (cubed and chilled)
¾ cup shredded sharp Cheddar cheese (about 4 ounces)
1½ cups heavy cream
2 tablespoons unsalted butter (melted)
Please note that nigella.com is not able to accept responsibility for any substitutions that Ocado may need to make as a result of stock availability or otherwise. For any queries, head to ocado.com/customercare.
Feel free to use the "swap" feature and adjust brands and quantities as needed.
Method
Bacon Cheddar Biscuits is a guest recipe by Michael Anthony so we are not able to answer questions regarding this recipe
Preheat the oven to 425°F.
In a medium skillet, cook the bacon over medium-low heat until the fat is rendered and the bacon is browned but not crunchy, about 6 minutes. Drain the bacon on a paper towel-lined plate and allow to cool completely.
In a large bowl, mix the flour, baking powder, salt, and cayenne with a rubber spatula. Add the cubed butter and toss to coat with the flour mixture, then flatten the pieces of butter between your fingertips. Flattening the bits of butter to mix them with the flour helps produce a really tender biscuit. Stir in the bacon and cheese. Add the cream and mix with the spatula until just combined.
Divide the dough into about 50 tablespoon-sized pieces and shape into balls, handling the dough as little as possible. Put the balls about 1 inch apart on a baking sheet. (The dough balls can be frozen at this point; once hard, transfer them to a freezer container for up to 2 weeks.)
Bake until golden and cooked through, 8 to 10 minutes (add a few minutes if frozen). Brush with the melted butter and serve hot or at room temperature.
Other recipes you might like