Print me
Introduction
A simple but beautiful dish inspired by a trip to Favignana, a little island off the west coast of Sicily. This is essentially an assembly of seasonal ingredients at their prime.
Tuna cooked over charcoal is a typical Mediterranean method of showcasing the meaty texture and beautiful flavours of the fish. Look for thick slices of tuna so that you can caramelise the outside whilst keeping the inside nice and pink and juicy.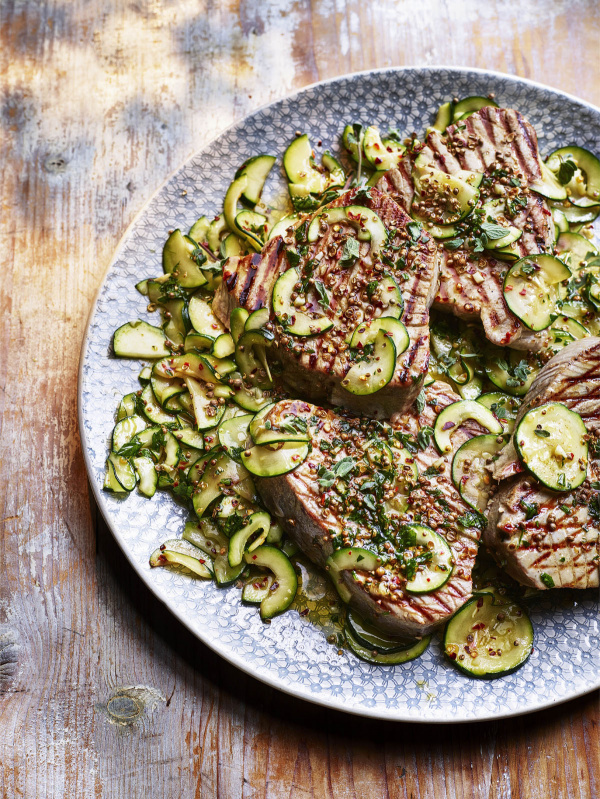 2 small trombetta courgettes (or small, firm green courgettes)
olive oil (for cooking)
2 small garlic cloves (finely chopped)
½ teaspoon dried chilli flakes
1 tablespoon coriander seeds (lightly crushed)
100 millilitres extra virgin olive oil
juice of ½ lemon
4 teaspoons sweet white wine vinegar (e.g. Chardonnay or moscatel vinegar)
4 thick slices of fresh tuna (each about 180–200g)
1 tablespoon picked oregano leaves
sea salt and freshly ground black pepper
Method
Charcoal-Grilled Tuna, Coriander Seeds, Lemon and Courgettes is a guest recipe by Ben Tish so we are not able to answer questions regarding this recipe
If using the denser trombetta courgettes, just slice them into very thin rounds. If using regular courgettes, cut them in half lengthways and remove the seeds and fluffy centre, then cut the halves into very thin half-moons.
Prepare a barbecue (when it is ready for cooking the fish, the coals should have turned an ashen grey), or heat a ridged cast-iron grill pan to maximum.
Meanwhile, place a sauté pan over a medium heat and add a lug of olive oil, then add the garlic and the courgette slices. Season well and turn around in the pan before lowering the heat. Sprinkle with the chilli flakes and cook the courgettes for about 5 minutes or until tender. Remove from the heat and reserve.
Set a small sauté pan over a medium heat and tip in the crushed coriander seeds. Toast, tossing them occasionally, for 2–3 minutes or until they become fragrant. Remove from the heat and pour in the extra virgin olive oil, lemon juice and vinegar. Season. Set the dressing aside to infuse.
Season the tuna steaks and rub with oil, then place on the barbecue grill or hot grill pan. Cook for 2 minutes on each side or until nicely charred but still pink in the middle. Remove from the grill to a plate and spoon over a little of the coriander seed dressing. Leave to rest for a few minutes.
To serve, divide the courgettes among the plates and top with the tuna steaks. Stir the oregano leaves through the remaining dressing and spoon this over the fish.
Other recipes you might like