Print me
Introduction
If I had to pick one thing to eat all summer long, it might just be this soup. First off, it's Just. So. Refreshing. Served bracingly cold, it'll cool you down on the hottest of hot days in much the same way that a bowl of steamy stew will warm up the doldrums of winter. Add to that a balance of savory-sweet-rich-tangy-smooth-crunchy, and a stunning shade of magenta to boot.
To really take advantage of the ease of this soup, make the base ahead (it will keep for up to a week in this state). Do this, and you'll always be just five minutes away from a bowl of awesome. For my go-to meal, serve with pieces of salt-cured herring and freshly boiled new potatoes.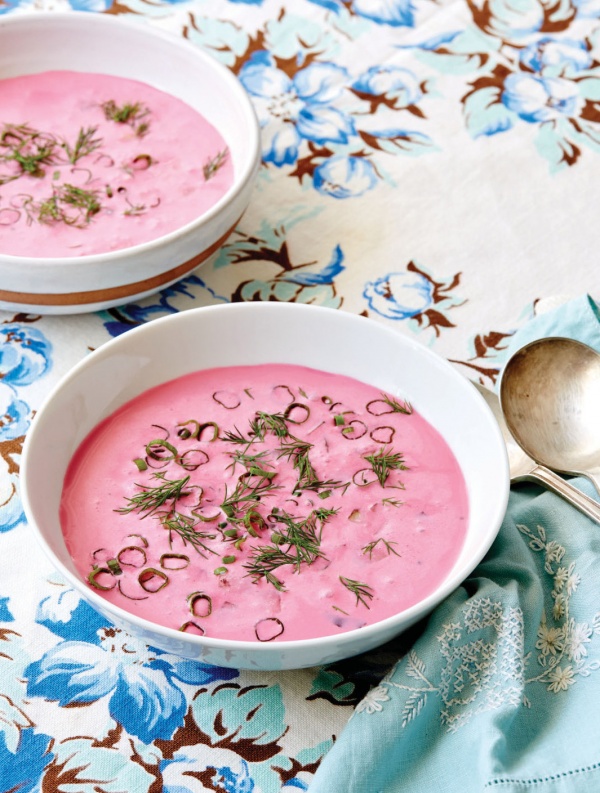 For the base
2 quarts cold water
kosher salt
a bunch of beets (with greens attached)
granulated sugar
To finish
1 cup smetana or European-style sour cream
fresh lemon juice
kosher salt
4 pickling or Persian cucumbers (peeled and cut into a 1/4-inch dice)
½ cup thinly sliced scallions
½ cup coarsely chopped fresh dill
Please note that nigella.com is not able to accept responsibility for any substitutions that Ocado may need to make as a result of stock availability or otherwise. For any queries, head to ocado.com/customercare.
Feel free to use the "swap" feature and adjust brands and quantities as needed.
Method
Cholodnik is a guest recipe by Bonnie Frumkin Morales so we are not able to answer questions regarding this recipe
Place the water in a large stockpot, and salt generously. Bring to a boil.
While the water is heating, remove the leafy stems from the beets, and wash and finely chop them. Set aside.
Wash and peel the beets themselves, then grate them on the large holes of a box grater.
When the water is boiling, throw in the grated beets and greens. Reduce the heat until it's just high enough to maintain a gentle simmer, and cook, uncovered, until the vegetables are tender, about 20 minutes. Season to taste, adding a touch of sugar if needed to bring out the beets' sweetness. Let cool, and then refrigerate until totally chilled (the base will keep for up to 1 week).
When you're ready to serve, season the base: Place some of the smetana in a bowl (about ¼ cup for every 2 cups base), and whisk in the base, bit by bit, until well combined (it should turn a gorgeous light pink). Add enough lemon juice to make it bright, and salt to taste. Pour into individual bowls, and top each with a handful of the cucumbers, scallions, and dill.
Other recipes you might like