Print me
Introduction
One of my favourite Spanish tapas is croquetas; cylinders of bechamel sauce, rolled in breadcrumbs and then deep-fried. Here I've added cumin seeds to give them a warming spice note. I often make these in large batches as they freeze really well - simply freeze the breadcrumbed croquettes on trays and transfer to freezer bags once they are solid. They will defrost in about 20 minutes so are perfect for serving with a glass of something cold the next time you have unexpected guests.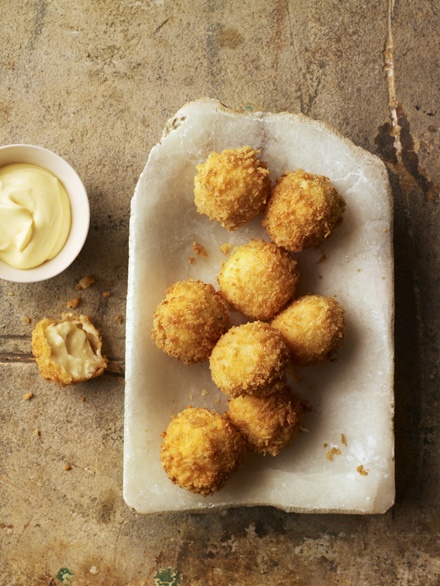 Ingredients
Serves: 6-8 as a snack
750 millilitres full fat milk
2 bay leaves
1 onion (roughly chopped)
1 teaspoon black peppercorns
6 whole cloves
100 grams unsalted butter
1 teaspoon cumin seeds
100 grams plain flour (plus extra for rolling)
½ teaspoon ground cumin
200 grams grated cheddar cheese
2- 3 eggs (beaten)
200 grams panko breadcrumbs
oil (for deep-frying)
salt
freshly ground black pepper
Method
Cheese and Cumin Croquettes is a guest recipe by Dhruv Baker so we are not able to answer questions regarding this recipe
Pour the milk into a pan and add the bay leaves, onion, peppercorns and cloves. Bring to a simmer then take off the heat and set aside to infuse for 5-10 minutes. Strain the milk into a jug and discard the spices and onion.
Melt the butter in a large pan and when foaming, add the cumin seeds. Stir-fry for a minute then add the flour and stir continuously over a medium heat for about 5 minutes, until golden. Gradually add the infused milk to the flour and butter, whisking to make sure you have a smooth mixture.
Stir in the ground cumin and cheese, season with salt and pepper and then pour into a bowl. Allow to cool, then cover with cling film and chill in the fridge for at least 3-4 hours. I often make this the day before and leave to chill overnight.
Use a tablespoon to scoop heaped portions of the chilled bechamel and then use your hands to roll into balls about the size of a walnut. A good tip is to rub your hands with a little oil to stop the mixture sticking to them. You should end up with 30-40 balls or croquettes.
Roll each ball in flour, then dip in beaten egg and finally roll in breadcrumbs. Heat the oil in a deep-fryer or large pan to 180°C / 350°F, or until a cube of bread turns golden in 30 seconds. Deep-fry the croquettes in batches for 2-3 minutes until golden brown. Drain on kitchen paper and serve immediately with something to dip them into; try Saffron Aioli or some mayonnaise.
Other recipes you might like