Print me
Introduction
Cross-fertilization of cuisines might not be to everyone's taste, but this tangle of classic Italian chilli, lemon and garlic spaghetti with pangrattato, power-splurged by Southeast Asian Sriracha, does work well. Indeed the addition of a pre-made, moreish hot sauce is an incredibly efficient way of layering pasta and breadcrumbs, not just with heat, but a sweet, garlicky, sticky tang that neither fresh nor dried chillies can add on their own. It's an excellent way to quickly quench a heat craving. As a relatively important aside: your Sriracha could be hotter than mine (I use Flying Goose or Tabasco versions), and indeed our tolerance to chilli may well differ too. So give these quantities a go, but maybe make a note as to whether you need more or less fire the next time.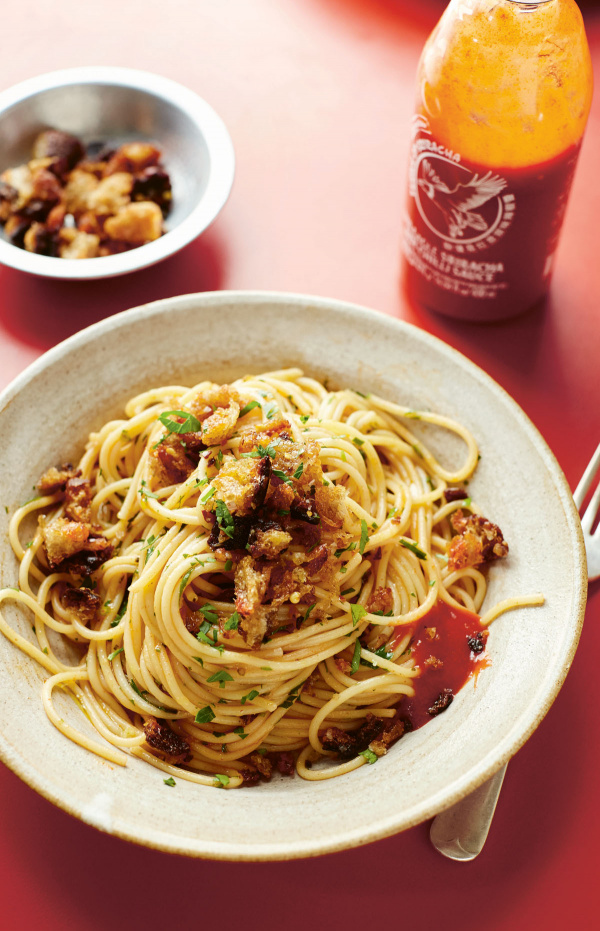 200 grams dried spaghetti
3 tablespoons extra virgin olive oil
2 cloves garlic (very finely sliced)
15 grams fresh parsley (stalks and leaves separated, both very finely chopped)
5 tablespoons sriracha chilli sauce
Juice of ½ a lemon
FOR THE CHILLI PANGRATTATO
50 grams thick sliced bread (ideally something springy like sourdough, ciabatta or focaccia)
3 tablespoons light olive oil
2 cloves garlic (minced)
1 heaped tablespoon sriracha chilli sauce
½ tablespoon dried chilli flakes
heavy pinch of flaky sea salt
Method
Sriracha and Lemon Linguine with Chilli Pangrattato is a guest recipe by Ed Smith so we are not able to answer questions regarding this recipe
Make the chilli pangrattato first
Tear and pick the bread into little fingernail-size pieces (including the crusts – don't discard those).
Put a small, heavy-bottomed frying pan (skillet) over a medium heat and add the oil. Allow this to heat up a little, then fry the breadcrumbs for 3–4 minutes so they begin to turn golden at the edges.

Add the garlic, stir and cook for 20 seconds, then drop in the Sriracha before the garlic browns. Stir and shuffle the pan, cook for an additional 30 seconds, sprinkle over the chilli flakes, stir one more time, sprinkle generously with salt, then transfer to a cool plate until needed. The crumbs should be a rust colour, crisp but also still a little bouncy.

Cook the spaghetti in well-salted, boiling water as per the packet instructions (likely to take around 10 minutes).

Pour the extra virgin olive oil into a wide, heavybottomed sauté pan or saucepan and place this over a low–medium heat. Add the garlic slices and let these warm through for 3-4 minutes, to soften, mellow and flavour the oil, but not to fry or colour.
Add the parsley stalks and cook for 1 minute more, then add the Sriracha and remove the pan from the heat. Shake the pan to mingle the hot sauce and oil, then after 30 seconds squeeze in the lemon juice.
Around now your spaghetti will be ready. Drain, reserving the cooking water, and transfer the pasta to the saucepan with the Sriracha and co.
Return this to the stove and place over a low heat. Add four to five tablespoons of cooking water and toss the pasta through the sauce.
Add the chopped parsley leaves, a touch more cooking water, maybe a little bit more water, and mix one last time before decanting onto two plates or into bowls, and scattering over the sticky and spicy breadcrumbs.
Other recipes you might like