Print me
Introduction
Sadly, for many home cooks, outdoor grilling and the charred burgers it enables are an impossible dream. But I had a thought: could you simulate that smoky, blackened experience with scorch-skinned eggplant? Anyone who has prepared baba ghanoush, the Levantine dip made from that vegetable, knows how to singe its purple skin over a burner (or under a broiler). I took my flame darkened aubergine and mixed it into my ground beef. Then I buried cooling, salty feta in each patty. Derived from spicy Southeast Asian sambals, parsnip relish is an upgrade from ketchup; it can jazz up any burger, hot dog, or deli sandwich, and accompany meat or fish that has been grilled — or pan-seared or roasted. Because who needs a grill anyway?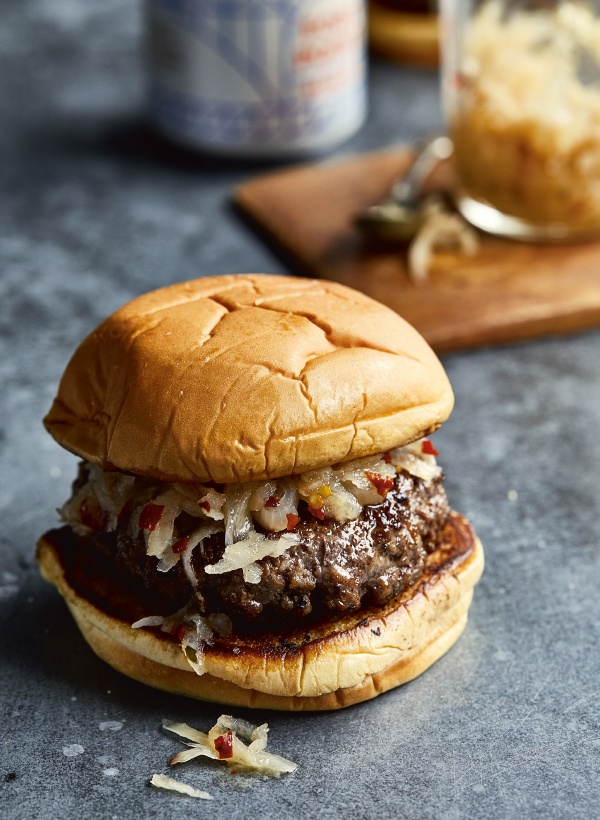 For the parsnip relish:
3 medium (1 pound) parsnips (peeled and grated)
2 shallots (thinly sliced)
2 cloves garlic (minced)
2 teaspoons sea salt
½ cup sugar
1 teaspoon dried oregano
1½ teaspoons dried red chiles flakes
¼ cup apple cider vinegar
roughly chopped fresh italian parsley for serving
For the burgers:
1 small (9-10 ounces) eggplant
2 tablespoons extra virgin olive oil
½ teaspoon smoked paprika
½ teaspoon kosher salt (plus more to taste)
1 pound ground beef
2 ounces feta cheese (cut into 12 cubes)
freshly ground black pepper (to taste)
1 tablespoon unsalted butter
4 hamburger buns (toasted)
Please note that nigella.com is not able to accept responsibility for any substitutions that Ocado may need to make as a result of stock availability or otherwise. For any queries, head to ocado.com/customercare.
Feel free to use the "swap" feature and adjust brands and quantities as needed.
Method
Eggplant Beef Burgers with Parsnip Relish is a guest recipe by Charlotte Druckman so we are not able to answer questions regarding this recipe
Make the relish. In a large heavy-bottomed, nonreactive saucepan, combine the parsnips, shallots, garlic, sea salt, sugar, ½ cup water, the oregano, and chili flakes. Bring to a boil over high heat. Reduce the heat to medium-low and simmer, stirring occasionally, for 30 minutes.
Add the vinegar and continue to cook until the parsnips are translucent and a bit spicy, about 30 minutes more; overall the relish should look like sauerkraut. Transfer the mixture to a small bowl to cool completely. Sealed in an airtight container, it can be stored in the refrigerator for up to 2 weeks. Before serving, stir in as much parsley as you like.
Preheat the oven to 375°F.
Make the burgers. Prick the eggplant all over with a fork and place it directly over the burner's flame on medium heat. Char the outside of the eggplant, using tongs to turn it until the entire surface is blackened evenly, about 15 minutes. (Alternatively, you can do this in the oven, under the broiler, on a baking sheet.) Transfer it to a baking sheet and roast in the oven until the flesh is mushy soft, 20 to 30 minutes. When the eggplant is cool enough to handle, trim it, remove and discard the skin, and place the flesh in a food processor. Add the olive oil, smoked paprika, and kosher salt, and process into a smooth puree. Let cool to room temperature and transfer to a large bowl.
Add the ground beef to the puree and stir just to incorporate. Divide the mixture into 8 small piles about 3 inches wide. Top one of the piles with 3 cubes of feta, then place another pile on top of it, gently pressing to form a thick patty and completely enclose the feta. Repeat to form 4 patties. Season on both sides with kosher salt and pepper.
Heat a large cast-iron skillet on the stove, gradually increasing the heat from low to medium. Add the butter. When the butter is melted and sizzling, increase the heat to high and add the patties. Cook without moving them until a crust forms on the bottoms, about 5 minutes. Flip the burgers over and cook to your liking, about 4 minutes more for medium-rare. Remove them from the skillet and let rest for 5 minutes.
Place the burgers on the toasted buns and top each with some of the parsnip relish.
Other recipes you might like