Print me
Introduction
I'd love to take credit for thinking of this idea, but I didn't. Julie Resnick, cofounder of Feedfeed, saw a matzo icebox cake I posted on my Instagram a few years ago and thought to do a tiramisu-inspired version for Pesach. Pure genius! Think about it: matzo is just as dry as ladyfingers, so why not make one swap and be set with your Passover dessert? While her kids call her creation matzomasu, I've stepped in with my own punny variation—it's known in my house as tiramatzu. In my recipe, a creamy mixture of zabaglione and whipped cream is layered between coffee-soaked sheets of matzo for probably the most decadent dessert in this entire book.
If you've never made zabaglione (known as sabayon in French) before, it's the king of custards. Though it's traditionally made with sweet wine, I sub in coffee liqueur and whisk it with egg yolks and sugar over a double boiler until the mixture has thickened and tripled in volume. To make the zabaglione even richer, I fold in whipped cream and mascarpone before layering it with the matzo to achieve a hint of lightness in such a rich sweet. The dish needs to set up in the fridge to let the matzo soften, so it lends itself well to being made a day in advance of seder, and only requires a dusting of cocoa powder before you scoop in.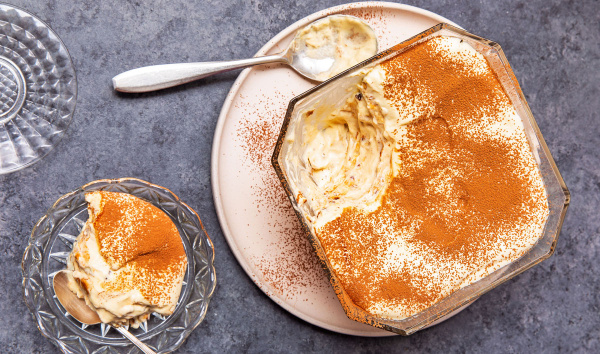 6 large egg yolks
½ cup plus 2 tablespoons (125g) granulated sugar
¼ cup plus 2 tablespoons kahlua or other coffee liqueur
1 teaspoon vanilla extract
1 teaspoon kosher salt
1½ cups heavy cream
1 cup mascarpone (at room temperature)
1¼ cups hot coffee
6 sheets matzo
2 tablespoons unsweetened unsweetened cocoa (for garnish)
Method
Tiramatzu (Matzo Tiramisu) is a guest recipe by Jake Cohen so we are not able to answer questions regarding this recipe
Set a large metal bowl over a medium pot of simmering water. In the bowl, combine the egg yolks, ½ cup of the sugar, 2 tablespoons of the Kahlúa, the vanilla, and the salt. Heat, whisking continuously, until the mixture is pale yellow, thickened, and tripled in volume, 6 to 8 minutes. Remove from the heat.
In another large bowl, using a hand-held mixer, whip the heavy cream to stiff peaks. Gently fold the whipped cream and mascarpone into the egg mixture.
In a shallow baking dish or quarter sheet pan, stir together the hot coffee, remaining 2 tablespoons sugar, and remaining ¼ cup Kahlúa until the sugar has dissolved.
To assemble, soak 1 sheet of matzo in the hot coffee mixture for 30 seconds. Place the soaked matzo on the bottom of a 2-quart casserole dish or 9-inch square baking dish, breaking it into pieces to fit if needed. Spread 1 cup of the cream mixture evenly over the matzo. Repeat this process of soaking and layering until all the matzo and cream mixture have been used. Cover and refrigerate for at least 4 hours or preferably overnight before serving.
Using a fine-mesh sieve, dust the unsweetened cocoa over the tiramatzu right before scooping and serving.
Additional Information
Prep Time: 30 minutes, plus 4 hours chilling time
Cook Time: 10 minutes
Other recipes you might like