Print me
Introduction
This recipe was born one quiet, rainy Saturday afternoon when I couldn't work out if I wanted brownies or cookies. With the self-assurance of Neil Armstrong and Buzz Aldrin planting their flag on the moon, I crowned a tin of brownies with a layer of chocolate chip cookie dough, and haven't felt bad about being indecisive since. If you don't want to use raw egg in the cookie dough, replace it with 3 tablespoons of whole milk. You'll need 40g less flour.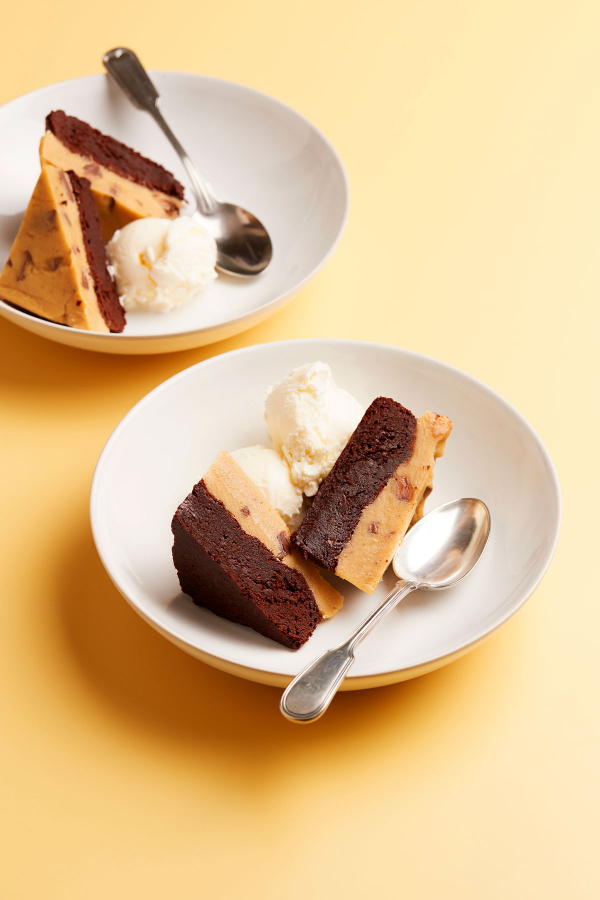 200 grams unsalted butter (chopped into rough cubes, plus extra for greasing)
200 grams dark chocolate - around 70% cocoa solids (roughly broken into pieces)
270 grams caster sugar
3 large eggs (lightly beaten)
80 grams plain flour
50 grams cocoa powder
¼ teaspoon salt
FOR THE COOKIE DOUGH
150 grams unsalted butter (at room temperature)
160 grams soft light brown sugar
60 grams caster sugar
1 large egg (lightly beaten)
1 tablespoon vanilla paste (or extract)
220 grams plain flour
¼ teaspoon salt
120 grams milk chocolate (chopped into small chunks)
Method
"Cheating on Brownies with Cookies" Brownies is a guest recipe by Leah Hyslop so we are not able to answer questions regarding this recipe
Preheat the oven to 180°C/160°C Fan/Gas Mark 4. Grease a 20cm square tin, ideally a high-sided one with a loose base (this makes the brownies easier to remove), with a little butter and line with baking parchment.
Melt the butter and chocolate together in a medium saucepan over a low heat, stirring regularly, until combined. Take off the heat, stir in the sugar and leave to cool slightly, until warm to the touch rather than hot.
Add the eggs and mix well until combined. Sift over the flour, cocoa powder and salt, and gently fold together. Transfer to the tin and bake for 25–30 minutes until set on top. Let it cool for as long as possible – it doesn't need to be completely cold, but the cookie dough layer will melt if the brownie beneath is too warm.
To make the cookie dough, put the butter and both sugars in a large bowl and beat, ideally using a handheld electric whisk, until combined and fluffy – I give it at least 3 minutes. Add the egg and the vanilla extract and beat until combined. Sift in the flour and salt and combine with a spatula or large metal spoon until it comes together into a smooth dough. Fold in the chocolate chunks. Eat a little bit while nobody is watching.
Spread the cookie dough evenly over the brownie, and press down to make a smooth, firm layer (I use my hands instead of a spoon). Chill in the fridge for at least 2 hours, so the cookie dough firms up, before cutting into squares.
Other recipes you might like