Print me
Introduction
These little fritters are bursting at the seams with flavours, and the herbaceous horseradish yoghurt tops things off very nicely. A punchy zesty sauce is perfect with any fried food, lighting the palate up. The sweet earthiness of the beetroot and the fragrance of cumin were, very simply, made for each other. I like to use any green peas or beans for this, but the edamame probably have the edge due to their nice crunchy texture, which adds an almost nutty bite to the fritters. Use any flour you like but I prefer to keep them gluten free. Gram (chickpea) flour would work well.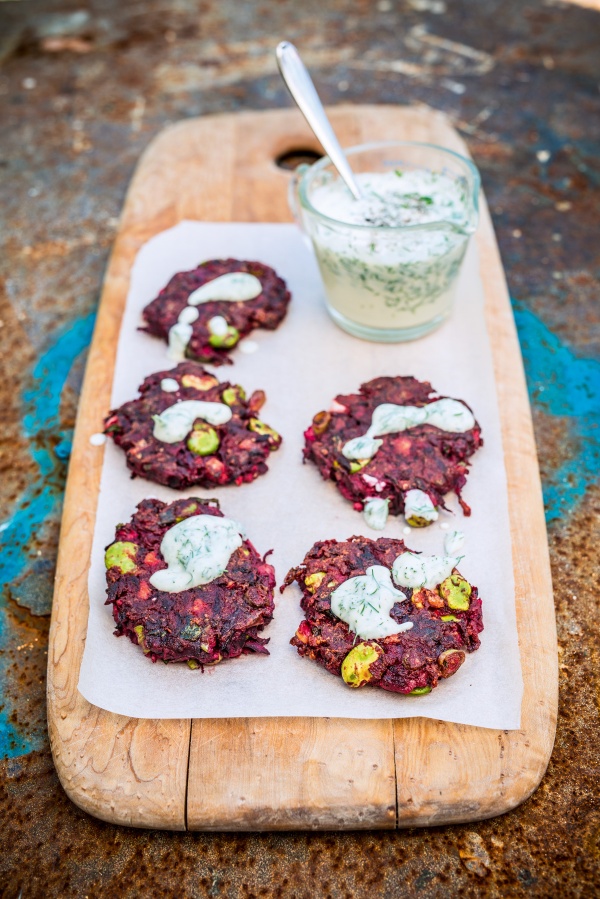 Ingredients
Makes: 8-10 fritters
For the fritters
1 large potato (scrubbed and cut into cubes)
125 grams firm tofu (drained and well mashed)
40 grams buckwheat flour or wholewheat flour
1 handful fresh mint (finely chopped)
zest of 1 lemon
1 teaspoon sea salt
¼ teaspoon freshly ground black pepper
300 grams beetroots (scrubbed and coarsely grated)
1 handful edamame beans or green peas or broad beans
1½ teaspoons cumin seeds (toasted and roughly ground)
vegetable oil for frying
For the horseradish and dill yoghurt
350 millilitres thick unsweetened soya yoghurt
1 teaspoon lemon juice
3 tablespoons finely grated horseradish or 1 1/2 tablespoons of horseradish puree
1 handful fresh dill (finely chopped)
1 pinch of sea salt
freshly ground black pepper to taste
extra virgin olive oil for drizzling
For the garnish
1 big handful watercress or spinach
2 spring onions (thinly sliced)
Please note that nigella.com is not able to accept responsibility for any substitutions that Ocado may need to make as a result of stock availability or otherwise. For any queries, head to ocado.com/customercare.
Feel free to use the "swap" feature and adjust brands and quantities as needed.
Method
Beetroot and Cumin Fritters With Horseradish and Dill Yoghurt is a guest recipe by Lee Watson so we are not able to answer questions regarding this recipe
Put the potato into a small pan, cover with water, add a pinch of salt and bring to the boil. Cook for 25 minutes, until soft. Drain in a colander, mash well and leave to cool.
Make the horseradish and dill yoghurt: stir all the ingredients together in a small bowl. Season and drizzle with olive oil. (Note, this can be done well in advance).
Once the potato has cooled to handling temperature, mix with the tofu, flour, mint leaves, lemon, salt and pepper. Now gently mix in the grated beetroot and peas, until all is well combined - using your hands is best. We'd like these fritters to be chunky and packed full of texture.
In a large, heavy frying pan, dry-toast your cumin seeds on a medium-low heat for a minute. They should pop and give off a lovely aroma. Put them into a pestle and mortar and bash them up a little, then stir them into the fritter mix.
In the same pan, warm 1/2 tablespoon of oil on a medium heat, ensuring that the base of the pan is evenly covered with a film of oil. Spoon in 2 heaped tablespoons of fritter mix per go, pressing it down a little with the back of the spoon until roughly 1cm thick. Cook for 3-4 minutes on one side and slightly less on the other. Repeat until you have a few fritters cooking at the same time, and continue to cook in batches. Drain on kitchen paper and keep them warm in a low oven.
Serve warm and crispy on a bed of vibrant green watercress or spinach leaves, garnished with the spring onions and with the horseradish and dill yoghurt on the side.
Other recipes you might like