Print me
Introduction
As a young chef in my early twenties, we would finish work and all go out together, then end up in someone's kitchen knocking up eggs Benedict for a hangover cure. These days I'm not going out as much as I did back then, but I still love a fabulous eggs Benedict for breakfast. In New Zealand, a version of this can be found in practically every café you come across. And if you haven't tried sriracha before, a warning: it's addictive. We always keep a bottle in the house.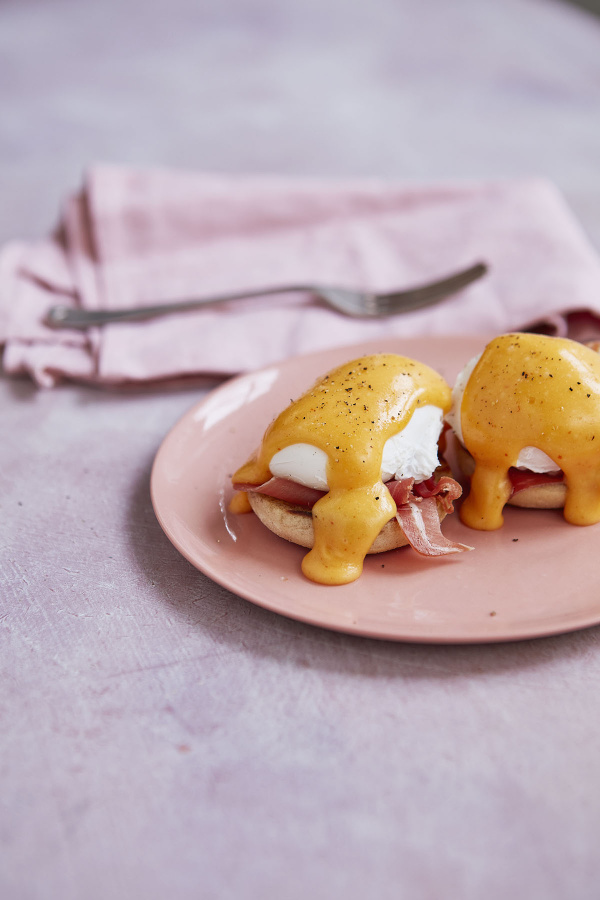 1½ litres water
75 millilitres white wine vinegar
8 large eggs
4 English muffins (split)
4 - 8 serrano ham slices or similar
pepper
FOR THE HOLLANDAISE
100 millilitres white wine vinegar
50 millilitres water
1 tarragon sprig (chopped)
1 tablespoon white peppercorns (crushed)
250 grams butter
1 tablespoon hot sriracha chilli sauce
3 large egg yolks
½ lemon (for squeezing)
salt
Method
Eggs Benedict with Sriracha Hollandaise is a guest recipe by Monica Galetti so we are not able to answer questions regarding this recipe
For the hollandaise, place the vinegar, water, tarragon and crushed peppercorns in a saucepan and reduce to one-third over a medium heat, then leave to cool.
Meanwhile, place the butter in a saucepan over a medium-low heat. Swirl to melt and wait until the yellow liquid has separated from the white dairy solids. Leave to cool slightly, then pour the yellow clarified butter into a jug, discarding the white solids.
Pour the vinegar mixture into a heatproof bowl and whisk in the sriracha and egg yolks. Place the bowl over a pan of gently simmering water and whisk for 5–8 minutes until very thick.
Take off the heat and whisk in the warm clarified butter. Season with a squeeze of lemon juice and a little salt. Keep warm over the pan of water off the heat, stirring occasionally, while you poach the eggs.
Place the 1.5 litres of water in a deep saucepan with the vinegar and bring to a simmer.
Crack the eggs into separate cups.
Swirl the simmering water to create a vortex – this helps form the egg into a nice round shape. Drop 1 or 2 eggs into the vortex and cook for 2–3 minutes. Remove with a slotted spoon. Repeat to cook the remaining eggs.
While the eggs are poaching, toast the muffin halves. Spread a little of the hollandaise on to the toasted muffins. Divide the ham and place on top, then add the poached eggs.
Cover generously with more hollandaise and finish with a twist of black pepper.
Other recipes you might like