Print me
Introduction
I love eggs. Fried, scrambled, Benedict or Royale, anything with a runny egg yolk has the potential to make me unreasonably excited. I can't tell you how much I adore my Moroccan take on eggs Florentine with harissa hollandaise! It's interesting how a bit of ras el hanout and harissa can give a unique twist to such a classic dish. It certainly proves that a little goes a long way. The harissa hollandaise is so tasty and easy to prepare, I always make a double batch and use it for poached fish or grilled asparagus the next day.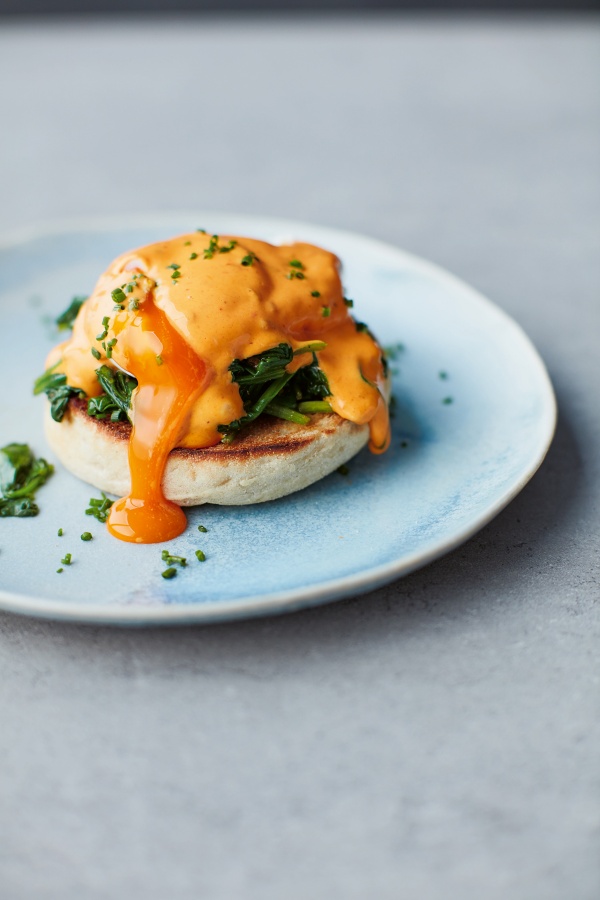 For the eggs Florentine
1 tablespoon olive oil
250 grams spinach leaves
1 tablespoon lemon juice
1 teaspoon ras el hanout
½ teaspoon salt
oil for frying the eggs, if needed
4 eggs
2 English muffins or 4 slices of bread
1 tablespoon chopped chives (to garnish)
For the harissa hollandaise
2 egg yolks
1 tablespoon harissa paste (or more to taste)
½ tablespoon lemon juice
100 grams unsalted butter (melted)
salt
Method
Moroccan Eggs Florentine with Harissa Hollandaise is a guest recipe by Nargisse Benkabbou so we are not able to answer questions regarding this recipe
Heat the olive oil in a large saucepan over a medium heat. Add the spinach, lemon juice, ras el hanout and salt, cover the pan and cook for about 7 minutes until the spinach is soft, stirring occasionally. Uncover the pan and cook for about 5 minutes until all the liquid has evaporated, stirring occasionally. Remove the pan from the heat and set aside until ready to serve.
For the harissa hollandaise, place the egg yolks, harissa and lemon juice in a blender and blend until smooth. With the motor running, pour in the melted butter in a steady stream until a thick sauce forms. Taste the hollandaise and add salt if necessary, then set aside until ready to use. If the hollandaise has set by the time you want to serve, warm it up in a small saucepan.
Poach or fry your eggs to your liking. Split the muffins and toast them, or toast the slices of bread. Top each warm muffin half or slice of toast with a serving of spinach, an egg and a generous serving of the harissa hollandaise. Garnish with the chopped chives and serve immediately.
Other recipes you might like